Fundraiser cookbooks have never been this easy
Fundraiser cookbooks can be a lot of work. We streamline the process and help you generate more money with less of your valuable time. By providing the highest quality cookbooks, and a simplified process for creating and distributing your book, we are able to offer faster results with less risk.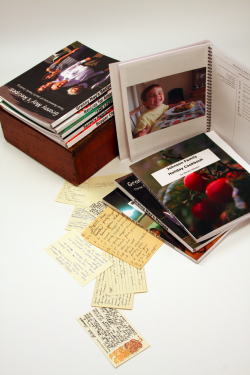 Create your book in less time
Our online cookbook design software means you can get started right now with absolutely no commitment. Start adding recipes and photos, section dividers, dedications, and customize the cover with your own photos in minutes.

Want to involve more people? Our software provides a "collaboration model" that lets you solicit recipes from contributors via email, then drag the contributed recipes into your book without having to retype anything. You can even enter recipes on behalf of someone else who might not be up to using the computer.
Flexible publishing options
On Demand

This option is perfect if you aren't too sure how many you will sell, if you want to run a smaller fundraiser, or if you don't want to deal with having to store all of the books, or ship the orders to different locations.

Large Run

This means that we print a large quantity of books all at once and ship them direct to you. The large volume keeps your costs down, so you will pay the minimum price per book with this option.
Promote your book in new ways
In addition to the standard methods of promoting your cookbook, we enable you with new ways to sell. By providing a "buy it now" link, websites, bloggers, and social media users can market your cookbook in new ways without any commitment from you. We accept the payment, process the order, ship the cookbook, and send you a check.
No Up Front Commitment
Only pay for what you sell
Online Recipe Collection
High Quality Cookbooks
FREE Cookbook Software
FREE Custom Covers
Get Started FREE
"I have never attempted anything like this and do not consider myself very computer proficient. I found the website easy to use and was compiling recipes from 45 families for this cookbook."
— Nancy, FL
"I have researched many companies and yours is by far one of the better ones. Plus you were very helpful, unlike your competitors."
— Lori, ME