Customize your cookbook – add a dedication, personalize the cover
Choose from hard back or spiral bound books.
Professionally made, just like in a bookstore.
Use our web designer to make your book.
Preserve your family's masterpieces.
Personalize your cover page, add a dedication.
Make the cookbook you want.
Order as many as you want — no minimums.
Starting at $19.95.
Your cookbook is yours and we want to help you make it that way. After you select the binding style, you can begin customizing your book.
Customize The Cover
Upload images you want to appear on the cover
Add a title, subtitle, and a third line such as an author.
Note that different customization options are available based on your binding selection.
Arrange Pages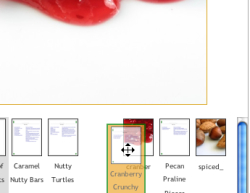 Re-ordering pages in your book is easy. Just drag pages around in the page navigator. When the page is in the position you would like it, release the mouse. Some pages, such as the table of contents, title, dedication, and cover pages, cannot be moved or removed.
Add A Dedication Page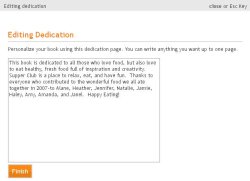 Personalize your book with a dedication page. You can include up to one full page of text on this page.