Publish your cookbook – no minimums – for yourself or the whole family
Choose from hard back or spiral bound books.
Professionally made, just like in a bookstore.
Use our web designer to make your book.
Preserve your family's masterpieces.
Personalize your cover page, add a dedication.
Make the cookbook you want.
Order as many as you want — no minimums.
Starting at $19.95.
The last step is to publish your book. Once you have published your book you will be able to preview and order copies.
Create A Print-Ready File Preview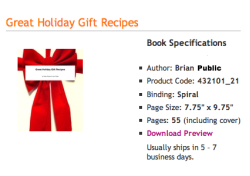 After you have created the print-ready file, you may review it for errors before placing your order. You can download an electronic pdf of the cookbook. Once you are satisfied with the book, you can checkout.
Checkout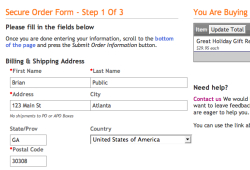 To checkout, you will need to supply shipping and billing information. All transactions with CreateMyCookbook occur over a secure connection. You may adjust your shipping and billing information at this point. Once your order has processed we will begin making your book. Refer to our shipping guide to see how long until you can expect to receive your cookbook. Please Contact Us if you have any special requirements for your order. We will try to accommodate your wishes.
Return Policy
CreateMyCookbook is sure you are going to enjoy your custom book. If there are any defects in workmanship, printing errors, or if your book arrives damaged, we are happy to replace your book or refund your money.
Unfortunately, CreateMyCookbook cannot extend the refunds or exchanges on books that had errors in the design. This includes things like typographical errors, problems with image sizes, and page order. We encourage you to thoroughly preview your book before placing your order and not to change your book until you receive a confirmation that your order has shipped.