Product Spotlight: Write-in Recipe Binders
Guest Blogger - Apr 06, '22 -
Cookbook Ideas
-
Getting Started
-
Organization
-
Recipes

Chef Sallie is a personal chef, recipe developer, and culinary instructor. She specializes in providing healthy meals for athletes, designed to prevent injury, promote healing and provide fuel for peak athletic performance. Her recipes are designed to use seasonal, whole ingredients. Her in-home cooking classes show her clients which ingredients can be used to help treat specific health issues and improve their quality of life. She is dedicated to the idea that delicious, healthy meals can be easily prepared and accessible regardless of budget. Today, she's talking about why Write-In Recipe Binders are the new must-have kitchen accessory!
What is the biggest obstacle to creating a cookbook? I've been asked this question and have had the opportunity to hear other people's answers to this question as well. In this article, I will list several conundrums I've encountered myself, as well as the solution I've found.
Capturing and preserving recipes, as you probably know, presents its own unique set of issues. As a culinary professional, I've been waiting for something like this. I'm so excited about this addition of Write-In Recipe Binders to CreateMyCookbook's line of quick ready-made products that you may have never heard of! They're always adding innovative ways to capture and preserve your family recipes, and this is just the latest of several that has an advantage over others on the market today.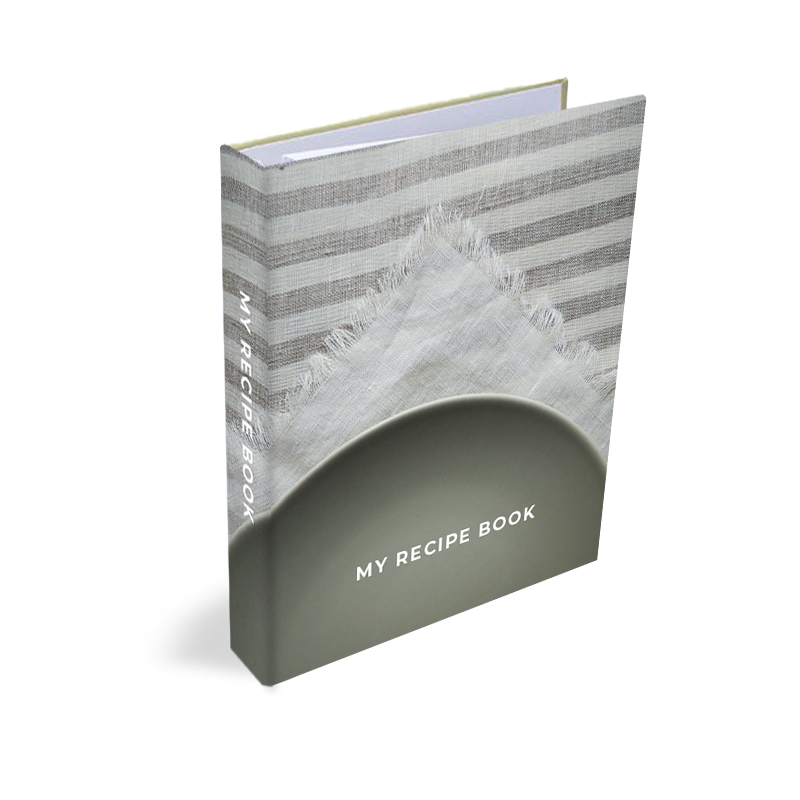 Write new recipes while you're cooking
As a chef, I am always creating new recipes on the fly and in the past have resorted to using a spiral notebook or journal while I'm working. Journals were problematic because they didn't lay flat when opened on the counter, causing extra clutter in the kitchen with the items used to prop the book open. I already make a mess in the kitchen on a regular basis, so adding more clutter just compounds the problem. While spiral notebooks are great for capturing notes and ingredients, they are also great for capturing everything that's spilled or splashed on their pages.
Spill-Proof Pages make clean-up quick work
Speaking of mess in the kitchen, I'm notorious for spilling things. If you could see my recipe journals from over the years, you would see evidence of past kitchen experiments, both successful and those that were, well, unfortunate. That brings me to the second reason I chose CreateMyCookbook's Write-In Recipe Binder to capture my kitchen adventures in real-time. I'm a messy cook. There, I said it. Admitting you have a problem is the first step, right? I'm very self-aware. I know what you're thinking. You're envisioning some cute handwritten recipes with a few spills and splashes on them that make the pages seem sweet and endearing. That is not the case in my kitchen, not even close.
How does one resolve this problem? Other similar products offer add-in blank binder pages that you can write on, but in order to make them spill-proof, it is necessary to purchase sheet protectors for those pages. Then you have to remove the pages from the sleeves in order to write on them. Not very efficient, is it?
CreateMyCookbook's Write-In Recipe Binder is different from others on the market because it uses a special paper, called Rite in the Rain®. You may have heard of them before. They specialize in light-weight, waterproof paper used in field, camping and travel journals. The paper used in these recipe books is a light-weight 32 lb paper with a matte finish, but it is spill-proof. That's right. I've tested it extensively in my own kitchen, also known as the "hot zone". Broken eggs, oil, even wine. Wiped completely clean, as if nothing ever happened. Don't believe me? Check it out!.

Add more pages over time
One of my favorite things about this recipe binder is the fact that it's a 3-ringed binder. That means….wait for it…..I can add more pages when I've filled out the 100 pages that come with the original set. It's like having my own custom recipe box all in the convenience of a book, without having to worry about losing a recipe card. It happens to the best of us. Plus, as a bonus, I can rearrange the pages in any order I like. Win, win!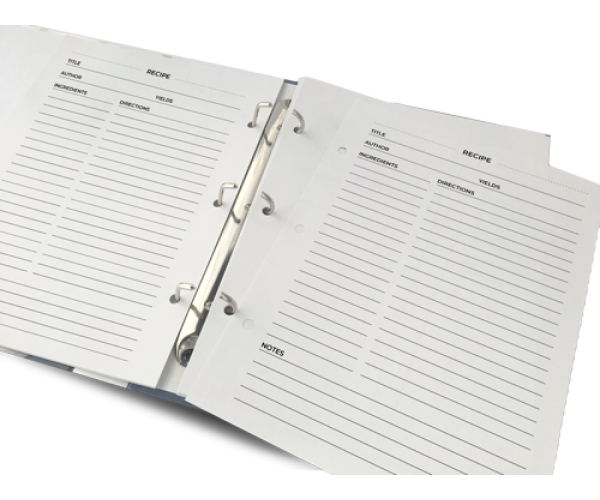 No more propping recipe journals open on the counter while cooking
Previously I mentioned the frustration I experienced with having to prop a traditional write-in journal open on my kitchen counter when trying to reference a written recipe or add it to my journal. Frustration, be gone! Having a handy 3-Ringed binder that lays flat when opened to write, store and reference my recipes while cooking eliminates this problem. I can also remove a single page, use it while cooking, and then return it safely to the binder. I can even add notes to the page while I'm at it.
Preserving those special recipes in real time saves time and frustration later
The single biggest challenge I encountered when creating my first cookbook was the process of actually getting recipes that have always existed in my head written down (or typed) on paper so that I could add them to my book. For years I operated under the premise that as a chef, I didn't need formal recipes in writing. I like to wing it in the kitchen. Get the concept and basic recipe down, then go with it! We all know that cook….the one that adds a little of this and a little of that and ends up with culinary magic. You've probably done it yourself at some point. Some call it "flying by the seat of your pants", I prefer the terms "culinary artistry" or "freestyle cooking". This works well until that day you need to share a recipe with someone, or recreate a dish with consistency. I love it when a client or friend says "I loved that such and such you made a few weeks back. Would you make it again?" Gulp. I mean, sure, no problem!
Getting recipes in print was also the most time-consuming step in the process of creating a book. You know what I'm talking about. Transcription services such as WeTypeIt are handy, but if the recipe only exists in your mind, you have to get it in print first. I remember thinking, "How much of this do I usually add, what ingredients did I use and in what order did I use them?" It's difficult to think about after the fact. A much better and more efficient process is to write down what you're cooking, what quantities, ingredients, steps, etc while you're doing it and the recipe is fresh in your mind. Having a write-in binder with recipe formats already printed out so that all you have to do is fill in the blanks makes this daunting task much easier. This is, in my opinion, the most valuable reason to purchase one of these handy recipe books.
Bonus reason you'll want one of these Write-In Recipe Binders
While I don't mind sharing most of my recipes, there are a few trademark ones that I like to keep to myself…at least for now. You know, those special cookies Aunt Sallie makes that no one else can recreate exactly the way she does? Me too. I would like to pass some of my special "secret" recipes on someday, and having them written in one of these books is a great way to do that. Having them in my own handwriting makes them even more special and I hope reminds people of the love I put into every dish I make. Preserve those special recipes for future generations by writing them down. Grab one of these handy write-in binders today!
XO, Chef Sallie
Next:
Tips for Packing the Kitchen for Moving