Recipe of the Week | Easy Chicken Enchiladas
Guest Blogger - Jul 28, '21 -
Recipe of the Week
-
Recipes

Easy Chicken Enchiladas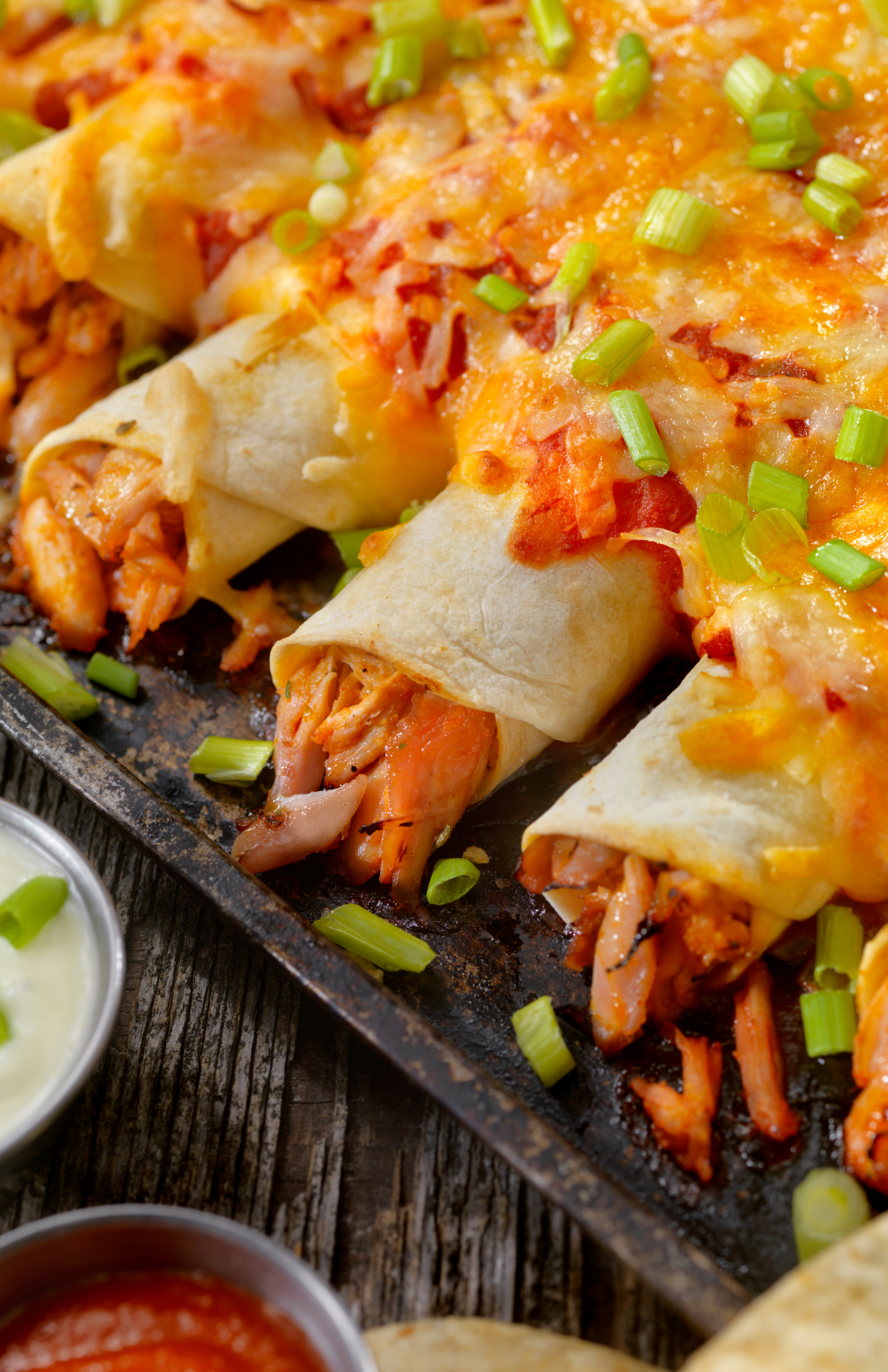 "This is my go-to recipe when I'm craving Tex-Mex in a hurry. It's a lot of ingredients, but really only takes about 30-40 minutes to finish. I grab a rotisserie chicken on the way home and shred it for the filling. This is a versatile recipe that you can modify to include veggies, spinach, corn, black beans, and any number of other ingredients. I make a batch, then divide the leftovers into single-serving containers, and freeze. Tip: I save the leftover filling and use it for an awesome enchilada dip!" - Chef Sallie
Ingredients
1 Tbs olive or avocado oil
1 medium yellow onion, peeled and diced small
3 cups cooked shredded chicken
2 tsp ground cumin
2 tsp ground chili powder
1 tsp ground coriander (optional)
1/2 tsp kosher or sea salt
4 oz can mild diced green chilis
15 oz can cream of chicken soup
2 15 oz cans mild enchilada sauce
3 cups shredded monterrey jack cheese, divided
16 6" flour tortillas (fajita size)
1/2 cup diced green onions (optional, for garnish)
1/4 cup sliced black olives (optional, for garnish)
1/4 cup minced cilantro (optional, for garnish)
Directions
Preheat oven to 350 degrees F.

Heat oil in a large skillet over medium heat.

Add diced onion and sauté until translucent and softened, about 3-4 minutes.

Add chicken, spices, salt and green chilis. Stir to combine and cook about 3 minutes.

Pour in cream of chicken soup and 1/2 can of enchilada sauce. Stir, reduce heat and simmer for about 5 minutes.

Fold in 1 cup shredded cheese, reserving the rest for the top of the enchiladas. Remove pan from heat. Taste and add salt if needed (cheese will contribute to saltiness so be sure to taste before adding more salt).

Place 1/3 cup of the chicken mixture in the middle of a flour tortilla. Roll and place seam-side down in a baking dish sprayed with cooking spray. Continue rolling enchiladas until the pan is full (I use two 9x13 casserole dishes and it makes 16 enchiladas). Reserve any remaining filling for another use.

Spread remaining enchilada sauce over the enchiladas.

Top with shredded cheese, green onions and olives if using.

Bake in 350 degree oven for 15 minutes, or until sauce and cheese are hot and bubbly.

Serve with fresh cilantro, salsa, sour cream and/or guacamole.



Want us to feature your recipe on our blog and social media platforms? Click here!
Next:
4 Tips for Crafting a Top-Notch Cookbook Presentation