Making Old Recipes Work in an Instant Pot
Guest Blogger - May 07, '19 -
Guest Blog
-
Recipes

We're pleased to introduce our guest blogger this week: April Blake. April is passionate about cooking; she's a food, agriculture, and travel writer and a recipe developer. In this post, she shares her recipe expertise with tips on preparing old recipes using your new Instant Pot.
The year 2019 is a fantastic year to be alive. Most of us are not having to pump water from the well, or even watch our rice cook on the stove anymore, for fear of burning it. And that last part is thanks to the Instant Pot, a branded version of the electric pressure cooker that also does even more than just pressure cook. Introduced in 2008, but not mainstream until the mid-2010s, the Instant Pot has functions that include yogurt maker, steamer, rice cooker, food warmer, and it even sautes.
As someone who is very into exploring Southern foodways, mostly by way of community cookbooks from Southern states and mainstream Southern cookbooks, it's interesting to see how technology has evolved through the decades of these books, as well as the inherent knowledge that the cookbook author assumes that people (mostly women) have gotten from their mothers. As convenience foods became more popular, inherent knowledge declined. But people still wanted the taste and comfort of home-cooked meals. Thanks to some tweaks in preparation, we can now make some of these more labor-intensive recipes in this awesomely modern device and enjoy the taste of back then, right now.
I've been experimenting a lot with re-imagining these decades-ago recipes for the Instant Pot and have made good use of the saute and rice cooking function.
Rice is a staple of the South Carolina diet, especially back in the early 20th century and even back beyond that. And with how easy it can be to burn rice when cooking it on the stove top, the Instant Pot is a lifesaver for always perfectly fluffy rice. Not to mention the fact that I am scared of regular pressure cookers thanks to my parents telling me not to jump around the house or the pressure cooker would explode when I was a kid. Lifelong fear, instilled!
Let's get down to this buttery, veggie-filled rice recipe that originally appeared in The Lady & Sons Savannah Country Cookbook. This is Susan's Baked Rice, but re-imagined with more vegetables, a little less butter without sacrificing the buttery flavor, and zero effort beyond the initial veggie chopping. Oh, and it takes way less time to go from cooking to complete. Susan thinks this recipe would go great with baked or fried chicken, but it's just as good on its own. Also, the original called for a full stick of butter for four servings, so this cuts it in half, saving you a lot of calories!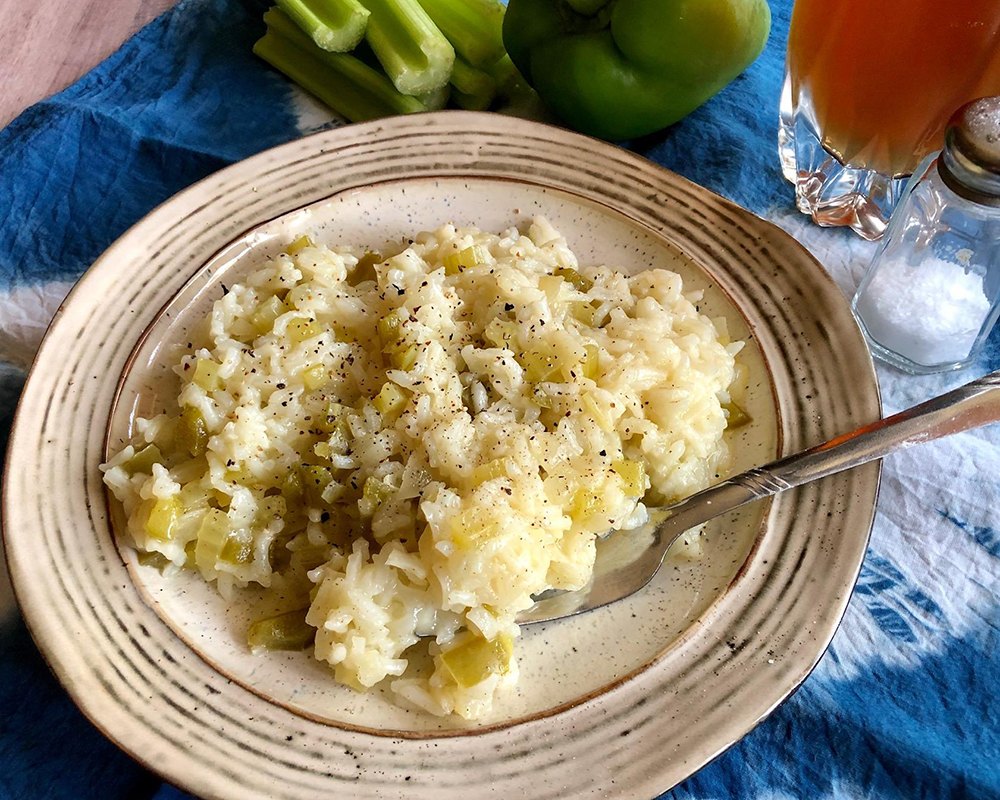 April's Instant Pot Rice
Serves 4
Ingredients:
4 tablespoons unsalted butter
1 large onion, finely diced
1 large green bell pepper, diced
3 ribs of celery, diced
1 cup uncooked white rice
2 ½ cups chicken or vegetable stock
Salt and pepper to taste
Instructions:
Melt the butter using the saute function. Don't worry about setting the timer at this point.

Once the butter is melted, add in the onion, bell pepper, and celery. Stir to coat in butter, and let saute for three minutes. Use the timer function here if you wish.

Add in the rice and stock of choice. Stir everything together, and press Cancel to turn off the saute function.

Put the lid on and make sure the top vent is set to Sealing. Press Manual and set the timer for 10 minutes. Let the Instant Pot come to heat, cook, and depressurize. This should take about 15-20 minutes total.

Once the lid has unlocked, use a serving spoon to fluff the rice, and serve. Salt and pepper to taste.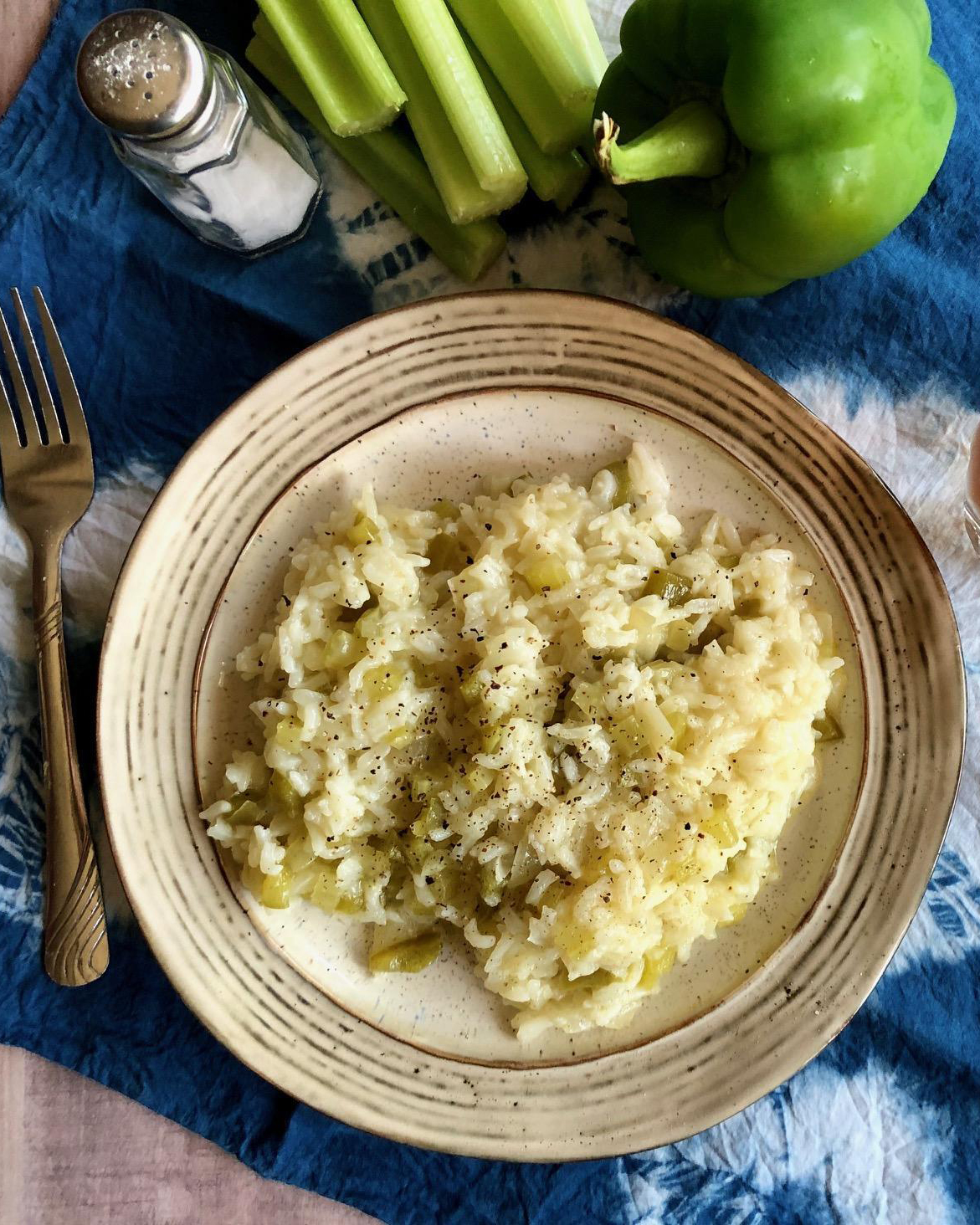 Looking to make other classic Southern recipes in the Instant Pot? Any dish that is based around rice that also includes sauteed vegetables and meats is a good candidate because you can saute the vegetables and meat before adding rice and liquid and closing the pot to let the rice cook up. Think jambalaya, Brunswick stew, and even butter beans.
Foods that traditionally require a long cook time are also fantastic under the pressure of the Instant Pot. Collards, which according to some folks, should be cooked for no less than an hour, can come out the other side of the Instant Pot in less than 20 minutes. The same goes for a pork shoulder, which can be turned into pulled pork in 45 minutes instead of four to five hours, or many more hours if you're smoking it over low heat. The right sauce can disguise the fact that it wasn't really smoked all night by a pitmaster though!
If your grandma would have put it in a pressure cooker, then think about how you can make your life easier. Turning your own favorite recipe into an IP recipe? Follow the cook time and water allowances on your Instant Pot or other electric pressure cooker for the type of grain you're using, if making a rice dish. And for legumes and meats, follow the guidelines too to ensure that everything comes out the right level of tenderness and doneness. Make it in the Instant Pot for a taste of the past, and a taste of the new South.
Want more recipe ideas and inspiration? Make sure to follow April on social media!
Instagram | Pinterest | Facebook | Twitter
Next:
How to Make Your Cookbook Even More Meaningful