Recipe of the Week | PBJ French Toast
Guest Blogger - Mar 21, '22 -
Recipe of the Week
-
Recipes

PBJ French Toast by Chef Sallie Lardy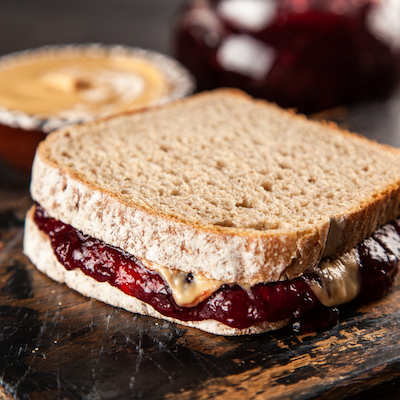 "Love peanut butter & jelly? Why not have it for breakfast? This is great with leftover banana bread, or any other bread you wish to use. Make it even more special by adding a couple of slices of bacon!" - Chef Sallie Lardy
Ingredients
8 slices thick cut brioche
1/2 Cup peanut butter
1/2 Cup strawberry preserves
3 large eggs, lightly beaten
1/2 Cup heavy cream
1/4 tsp ground nutmeg
1/2 tsp ground cinnamon
1 tsp vanilla bean paste
1/4 cup melted butter, for pan
Confectioners sugar, for dusting
Fresh fruit, for garnish
Maple Syrup for serving
Directions
Make 4 peanut butter and jelly sandwiches.
In a shallow dish, whisk eggs, cream, nutmeg, cinnamon and vanilla.
Preheat skillet or griddle over medium high heat and brush with melted butter.
Dip each sandwich in egg mixture, shaking off excess.
Grill 2 minutes on each side, until golden brown.
Cut each sandwich in half diagonally, then dust with confectioners sugar.
Serve with fruit and maple syrup.
Yields
4 Servings

Interested in more recipes from Chef Sallie? Grab a copy of her cookbook, Playing with Fire!
"A collection of recipes requested from present and previous clients, as well as friends and family. These recipes are simple enough for the kitchen novice and flexible enough for the seasoned cook to adapt and make their own." - Chef Sallie Lardy
Want us to feature your recipe on our blog and social media platforms? Click here!
Next:
8 Light Breakfast Dishes for an Everyday Morning