Recipe of the Week | Rose-Apple Pastries
Guest Blogger - Oct 11, '22 -
Recipe of the Week
-
Recipes

Rose-Apple Pastries from Quisy Harris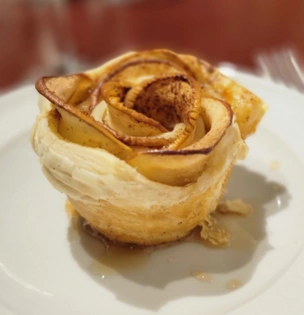 Ingredients
3 apples (I used Fuji, but you can use any kind.)
Puff pastry sheets, thawed
1 tablespoon of water
1 tablespoon of lemon juice
3 tablespoons of orange marmalade jam or apricot jam
Directions
Preheat oven to 350º. Use a muffin tin. Spray with cooking spray or grease with shorting to avoid sticking.
Wash apples. Cut in half and core the apples, then cut into thin slices.
Put apples in a bowl with water enough to cover apples then add lemon juice. I boiled my hot water on top of the stove for about 6 minutes, but you can also microwave the water for 6 minutes. You want to soak the apples long enough so they soften to bend.
Drain the water off the apples and pat dry with a paper towel.
On a clean surface or cutting board, using a rolling pin and flour roll out puff pastry one sheet at a time. Cut pastry into 6-strips on the short edge.
Mix orange marmalade and water in a small bowl. Microwave for 20-30 seconds.
Lay out cut strips and spread jam onto strips.
Line apples on the top half of the strips from end to end.
Fold lower half of strips up over the apples and roll. Put in muffin tin.
Bake for 40 minutes until golden brown (the sauce will bubble).
Let cool completely then remove from tin. (I used a greased butter knife that I sprayed with cooking spray.) I also drizzled with a honey-maple syrup glaze.
Yields
12

Want us to feature your recipe on our blog and social media platforms? Click here!
Next:
Recipe of the Week | Rumaki