Recipe of the Week | Slow Cooker Pho
Guest Blogger - Mar 09, '21 -
Recipe of the Week
-
Recipes

Slow Cooker Pho
We love pho anytime, but it's especially good when it's cold outside. It's warming, while also being pretty light. If it seems impossible that you could make really, really good pho in a slow cooker, then I challenge you to try this. The key to any pho is the broth, and the best pho places will simmer it at least overnight - there are rumors that some don't ever change the base and just keep adding to it. The best part of this version is that you can throw everything into the crockpot after a little prep time in the morning, then come home and finish it up for service. The hacks are broiling the onions and ginger first, using dried shiitakes, kombu, and fish sauce for extra umami, bone broth for depth (don't skimp here and use stock instead), and infusing the broth with aromatics and meatiness. You can make beef or chicken, your choice!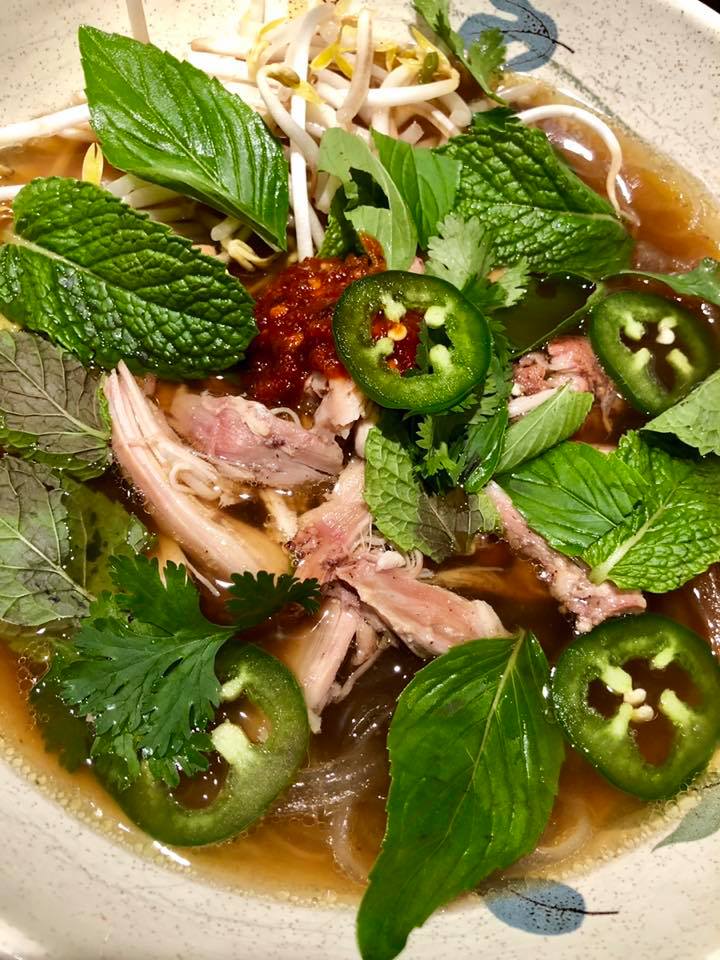 Ingredients
1 large yellow onion, sliced into ½ inch rounds (leave together in big rounds, don't separate the onion layers like you would for onion rings)
1 fat 2 inch piece fresh ginger, peeled and halved lengthwise
1 tablespoon canola oil
2 pounds bone in beef short ribs (for beef pho) or bone in, skin on chicken thighs (for chicken pho)*
Kosher salt
1 ½ teaspoons Chinese five spice powder
8 cups beef bone broth (for beef pho) or chicken bone broth (for chicken pho)*
1 ounce package dried shiitake mushrooms*
1 piece kombu (~6 inches x 4 inches)
1–2 tablespoons fish sauce*
10 ounces flat rice noodles, fettuccine‐size (or mung bean noodles**)
* Fancy making vegetarian pho? Replace the bone broth with mushroom stock and double the dried shiitakes. Let the broth simmer for 4 hours as written, strain, and season with soy sauce (or tamari or coconut aminos) and a touch of miso (for that fermented funk). Grill 4-6 large portabella mushrooms, slice them, and add them to the bowl with the cooked noodles. Pour on the broth, serve with the garnishes.
** I accidentally grabbed mung bean noodles one time at the Asian grocery when I was making this dish. It was a happy accident! Mung bean noodles retain a fantastic chew when cooked and when sitting in the broth. While not at all traditional, they're a nice change.
Garnishes
1 cup bean sprouts
1 bunch Thai basil leaves
1 bunch mint leaves
1 bunch cilantro, stems and leaves
2 jalapeños, thinly sliced into rounds
Lime wedges
Hoisin sauce
Sriracha, sambal or chili-garlic sauce
Directions
Preheat the oven on broil, making sure the rack is about 4-5 inches below the element. Line a baking sheet with foil. Arrange the onion slices and ginger on the baking sheet pan and brush with the oil. Broil until charred in spots, 8-10 minutes.
Season the short ribs or chicken thighs with salt. Dump the onions, ginger, short ribs or chicken thighs, five spice powder, beef or chicken broth, dried shiitakes, and kombu in a large slow cooker. Cover and cook on high for 4 hours, or until the meat is tender. Turn off the slow cooker and let the broth and meat rest for 30 minutes.
Remove the meat from the broth and remove any extra fat (and skin for chicken) and bones. Strain the broth and discard the solids. Skim any fat from the broth. Break the meat into bite size pieces and rest on a plate.
Dump the broth into a Dutch oven and bring it gently back to a simmer. Season with the fish sauce (to taste, we use 1 tablespoon because some folks don't like the funky punch of it) and salt to taste.
Meanwhile, prepare the noodles according to package directions. Drain well.
Portion out the noodles and meat among 4 large soup bowls. Portion out the broth into the bowls. Serve with the garnishes.
Yields
4-6 Servings
Scott's Story
Hello, friends. I'm a foodie. My cookbook is the compendium of my recipes gathered up over the past 25+ years - the result of my part-time grub affair. With the sharing of these recipes, my hope is that I am handing you a starting point for some memorable meals. And, perhaps either creating a spark or fanning a flame. I have put a LOT of time and effort into each and every one of them. You will travel all over the US and world with the recipes in this cookbook, and my sincere hope is that you enjoy the heck out of cooking these!
All profits from the sale of my cookbook, Part Thyme Grub Affair, will be donated to AWARE (www.awaredallas.org). AWARE provides funding and support to outstanding local groups that offer services, programs, education, and resources to those suffering from Alzheimer's disease, their families and caregivers, and to organizations doing valuable research to find a prevention and cure. If you'd like to purchase a copy, you can do so here: https://createmycookbook.com/products/266878_280161_R.
Want us to feature your recipe on our blog and social media platforms? Click here!
Next:
Recipe of the Week | Onion BBQ Meatballs