Smoky Mountain Summer Recipes
Guest Blogger - Jun 02, '20 -
Guest Blog
-
Recipes

Jackie Garvin is creator/publisher of the popular Southern food blog, Syrup and Biscuits. Additionally, she's published two cookbooks: Biscuits and Sweet Potato Love. Originally from Alabama, followed by a long stint in Florida, she currently lives in Western North Carolina on the side of a mountain in a log cabin and immensely enjoys Smoky Mountain life.
Last year, my husband and I made the decision to leave Florida after 33 years and head to the mountains permanently. One of the deciding factors to move from a place where we had established deep roots was the eight month long stifling heat and oppressive humidity of Florida summers. I had come to dread summer. Since moving to the temperate climate of the mountains, summer takes on a different meaning. Summer weather in the mountains means hot temperatures during the day, but it always cools off at night. So, you get a break from heat unlike Florida summers which are relentless. Also, mountain summers are moderate and last for a season, a regular season. We didn't have seasons in Florida. We had hot and a little less hot. This year, I'm looking forward to a temperate summer season and my favorite summertime foods and beverages.
FRONT PORCH SIPPING MATERIAL
Southerners romanticize front porches, but fewer houses have them these days. Whether your favorite outside sitting spot is a porch, deck, gazebo, or a grassy spot under a big tree, get out and enjoy the beauty of nature and outdoors. I love sitting on my porch and enjoying a cool beverage. Summertime and sweet tea go together like Rhett and Scarlett.
Southern Sweet Ice Tea is a classic that I make often. For a twist, try my Barbados Ice Tea which was inspired by our many visits to the Caribbean island of Barbados. They served unsweetened ice tea with a wedge of lime, instead of lemon, and a little pitcher of simple syrup for sweetener. I make this often if I'm entertaining in my home. It eliminates sugar for those who desire sugar free and the simple syrup for those who want sweet tea.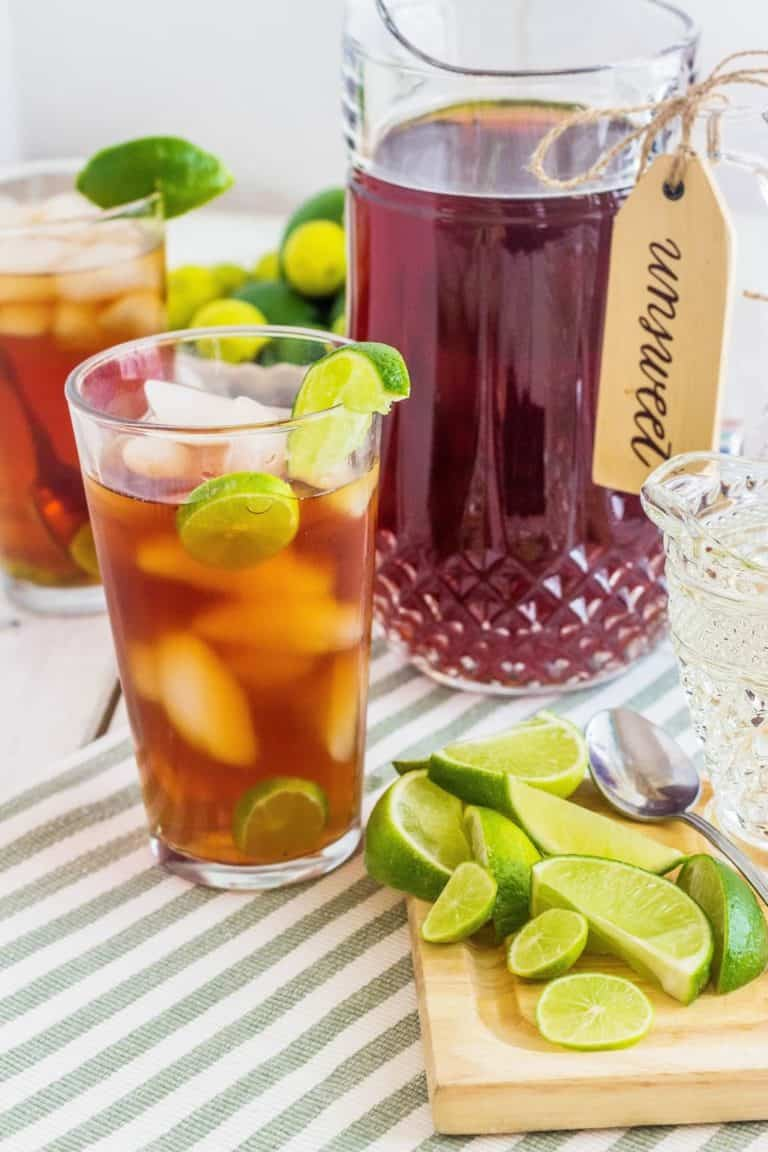 For a light and refreshing adult beverage, check out my easy recipe for Summer Shandy. Lemonade and a citrusy ale creates a beverage that will become a summer favorite. While I chose to make the shandy using fresh squeezed lemonade, commercially prepared lemonade is perfectly acceptable.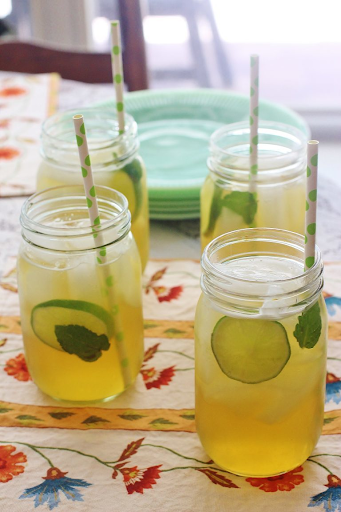 SUMMER IS FOR GRILLING
I can't imagine a summer without taking in the wafting aroma of a nearby cookout. Outdoor cooking smells so good and is so inviting. Summer is definitely for grilling all the classics like hamburgers, hot dogs and steaks. Why, that's Americana at its best! You go right ahead and enjoy those to your heart's content. Along with the classics, you might enjoy these suggestions for more down right delicious creations that come off a grill.
With a distinctive Cajun flair, Chicken and Sausage Gumbo Skewers is like eating a deconstructed gumbo on a skewer. Not only is it good eating, it's a great option for a menu item if you're entertaining because the skewers can be prepared ahead of company arrival which frees up more time for visiting. Don't be afraid of grilled okra. It's perfectly delightful.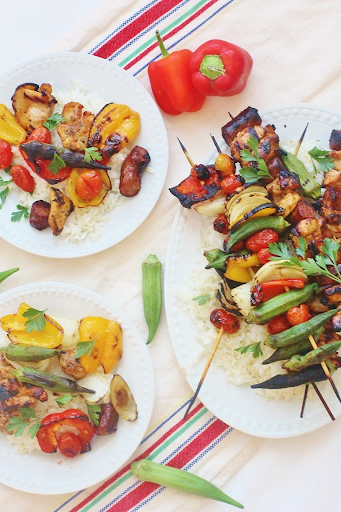 A great salad can have its beginnings on the grill just as well as other entrees. For Grilled Shrimp and Fruit Salad, start with shrimp marinated in a homemade citrusy dressing and grill them along with nectarines and pineapple. Substitute peaches for nectarines or use any other of your summer fruit favorites that hold up to grilling.Top your favorite salad greens with the shrimp and fruit and serve with the homemade dressing. I created this salad as part of a luncheon I gave for my friends. It turned out perfect and something everyone enjoyed.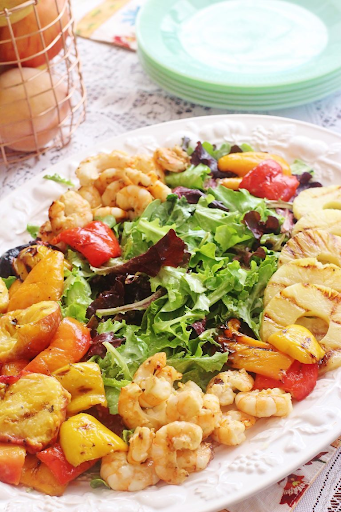 MAKE THE MOST OF SUMMER BERRIES
We lived in Central Florida in the same county as Plant City, the winter strawberry capital of the world. Strawberries were known to me as a winter crop. Living in North Carolina, I've come to appreciate them as a spring/early summer crop. In fact, I'm learning how to garden all over again. The growing season is completely different here in the mountains than in Florida. For one, I'd start my garden in Florida late February. Here in the mountains, you're advised to wait until after Mother's Day to plant tender annuals such as vegetables. This year taught me to heed that advice. We had a light layer of snow on May 9. That's crazy.
If you can't get fresh strawberries during the summer, frozen berries will work in both the recipes I'm sharing. At any rate, enjoy berries this summer.
Regardless of the season, everyone's a fool for a good biscuit. They're surprisingly easy to make. Don't let them intimidate you. Because I was a decades long biscuit failure, I've made every biscuit making mistake this side of Glory.I studied biscuits long and hard and became a biscuit expert. Because of my failures, I can teach anyone to bake good biscuits. Treat your loved ones to a breakfast featuring Strawberry Blueberry Buttermilk Biscuits. You'll earn Supah Stah status very quickly, and deservedly so.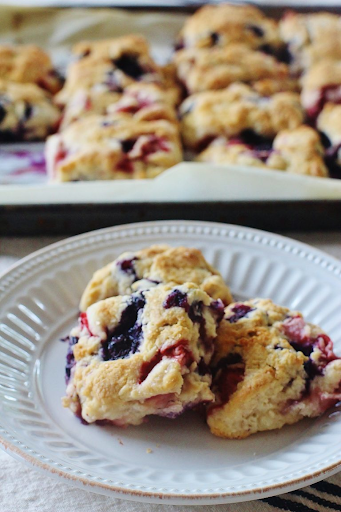 If fresh strawberries are one of the most scrumptious things you've ever eaten, wait until you try them roasted. Honest to Pete, the intensity of the flavor will make you weak-kneed. I'm not advocating for everyone to give up on fresh strawberries. We eat them most mornings throughout the season. But Roasted Strawberries are an unbelievable topping for ice cream and pound cake.
I wish you all a remarkable summer filled with the wonders of nature, good fun, belly laughs, spectacular tomatoes, and all your summertime favorite beverages and food.
~ Jackie Garvin 💕
We'd be tickled pink if you'd join us on our social media platforms:
Also, please sign up for our weekly newsletter when you visit SyrupAndBiscuits.com. Get free recipes delivered straight to your inbox.
Next:
Brian's Hickory and Apple Smoked Spare Ribs