Recipe of the Week | Apple Cranberry Oatmeal Bars
Guest Blogger - Feb 17, '22 -
Recipe of the Week
-
Recipes

Apple Cranberry Oatmeal Bars by Katie Rosario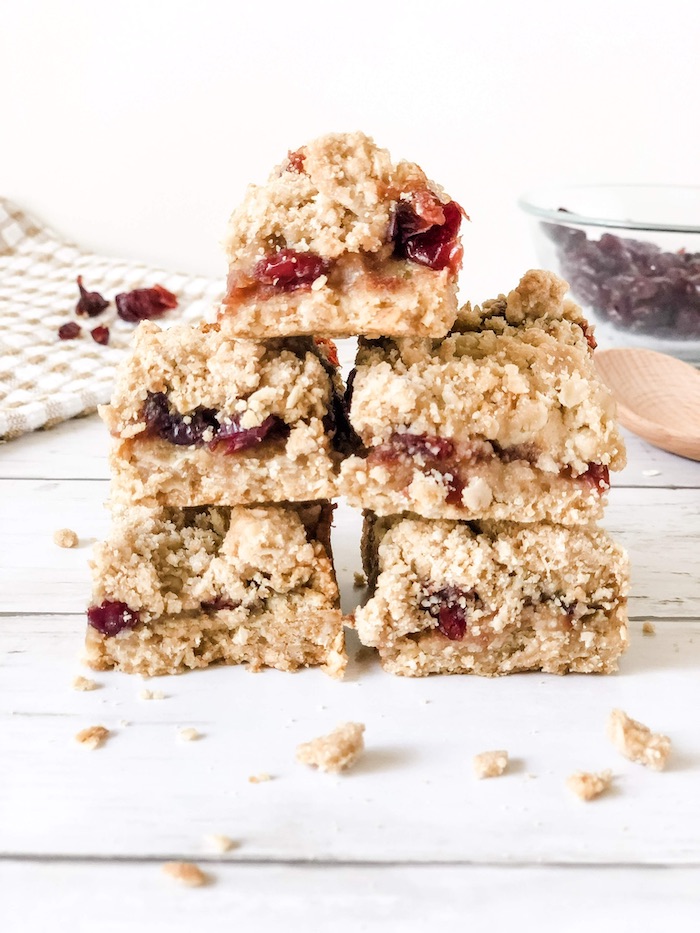 "Apples and cranberries are a classic flavor combination that led itself best to cinnamon, nutmeg, and ground cloves. The blend of spices makes this the perfect fall treat, and for a bonus, you can drizzle dark chocolate over the top of them and make it into a tasty dessert. Serve the oatmeal bars with a cup of coffee or enjoy them alone as your heading out to start your day. You and your friends will love these oatmeal bars. You can make them for any number of occasions like brunch, baby showers, a fun holiday party, or your school's next bake sale." - Katie Rosario
Ingredients
Filling:
1 cup applesauce, unsweetened
2/3 cup dried cranberries
1/2 teaspoon ground cinnamon
1/4 teaspoon ground nutmeg
1/8 teaspoon ground clove
1 medium orange, zested

Oatmeal Crumble:
1 cup all-purpose flour
1 cup quick-cooking rolled oats
2/3 cup brown sugar, packed
1/4 teaspoon baking soda
1/2 teaspoon salt
1/2 cup unsalted butter, cold
Directions
Filling:
In a medium bowl, combine the unsweetened applesauce, dried cranberries, cinnamon, nutmeg, clove, and orange zest. Mix until incorporated and set aside.

Oatmeal Crumble:
Preheat oven to 350°F, prepare pan with non-stick cooking spray.
In another medium bowl, combine ap flour, rolled oats, brown sugar, baking soda, and salt.
Using a pastry blender (or use a dinner fork), cut the cold butter into small cubes and slowly add in until mixture resembles coarse crumbs — split mixture in half and reserve one half for the crumble topping.
Press the remaining half of the mixture into the bottom of a lightly greased baking pan.
Press together to set crumb on the bottom.
Use 7x7x2-inch pan for thicker bars, or use a 9x13 for thinner bars.
Spread the filling on top of the crumb mixture. Crumble the remaining crust mixture to treat larger crumbs and sprinkle it over the filling.
Bake for 30 to 35 minutes or until the top is golden brown.
Cool for 30-45 minutes on a wire rack. Then cut into 12 bars. Serve at room temperature.
Yields
12 Oatmeal Bars
Want to see more of Katie's recipes? Check out her website!

Want us to feature your recipe on our blog and social media platforms? Click here!
Next:
Recipe of the Week | Sweetness Chicken Wings