Recipe of the Week | Best Banana Blueberry Muffins
Guest Blogger - Sep 27, '22 -
Recipe of the Week
-
Recipes

Best Banana Blueberry Muffins from Barb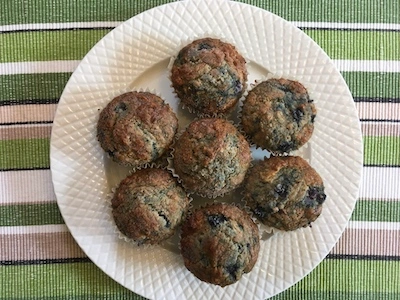 "I love to make muffins more 'healthy' and share with my friends over a cup of coffee or tea." - Barb
Ingredients
1 cup whole wheat flour
3/4 cup unbleached white flour
1 tsp baking soda
2 tsp baking powder
1 tsp cinnamon
1/4 tsp salt
1/2 cup butter
1/2 cup dark brown sugar
2 eggs
1/4 cup sour cream (or yogurt)
1 cup mashed bananas (3 medium)
1 cup blueberries
Directions
Mix dry ingredients into a bowl and set aside.
Cream butter and sugar in another bowl.
Add eggs, one at a time, beat well.
Mix in sour cream and bananas.
Pour flour mixture over wet, add blueberries and stir gently all together.
Fill muffin cups 3/4 full.
Bake at 400 degrees F for 15-20 minutes.
Yields
18 muffins

Want us to feature your recipe on our blog and social media platforms? Click here!
Next:
Recipe of the Week | Cola Chicken