Recipe of the Week | Blue Cheese Bacon Burgers
Guest Blogger - Jun 22, '22 -
Recipe of the Week
-
Recipes

Clair Cook is a Mississippi girl living in Louisiana with her husband and three kids. The Southerly Magnolia shares all things that make up her southern motherhood lifestyle: kids' activities, easy recipes, DIY projects, fashion, home decor, and some insights into her 'mommylife'! Today she's sharing her recipe for Blue Cheese Bacon Burgers just in time for Summer!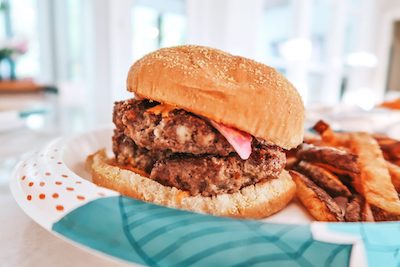 "I know that blue cheese may not be everyone's favorite cheese, but it is one that brings the flavor. This is especially true when it is added alongside bacon. These blue cheese bacon burgers are the perfect burger to enjoy with a side of homemade french fries." - Clair Cook from The Southerly Magnolia
Ingredients
3.5-4 lbs ground beef, (80/20) or (90/10)
1 egg
1/2 cup of cooked bacon pieces
1/2 cup-1 cup blue cheese crumbles
1 tsp salt
1 tsp pepper
Garnish: 1 purple onion, buffalo mayonnaise (1/4 cup of mayonnaise, 3 tablespoons of buffalo sauce)
Crustini buns
Directions
Place the hamburger meat into a large mixing bowl; add the egg and mix well
Add salt and pepper, and mix up
Add the bacon pieces, mix in. Then add the crumbled blue cheese.

Gently mix up; form the burgers into large balls

Place the burger balls onto a heated grill or griddle; cook on one side for 2-3 minutes, then flip

Press down the balls; cook for 7 minutes; then flip over again and cook for another 4 minutes

Remove the hamburgers from the grill
Mix up the buffalo mayonnaise and slice up the purple onion
Toast the crustini buns if you want; then add the buffalo mayonnaise and purple onion. You can add one blue cheese bacon burger patty or two. Up to you!
Enjoy!
Yields
12-14 burgers

Interested in more recipes from The Southerly Magnolia? Check out her blog and follow her on Facebook, Instagram, and Pinterest!
Want us to feature your recipe on our blog and social media platforms? Click here!