Recipe of the Week | Blueberry Cheesecake
Ashley - Dec 21, '22 -
Recipe of the Week
-
Recipes

Blueberry Cheesecake from Esperanza
"I experimented with an online cheesecake recipe by adding blueberries and came up with this beautiful and delicious variation of traditional cheesecake. It is a family favourite!" - Esperanza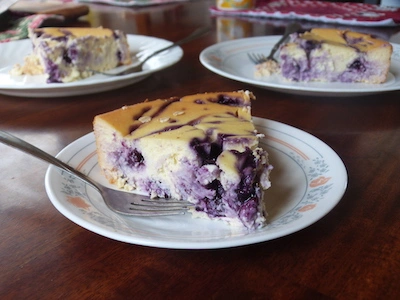 Ingredients
The Cheesecake:
2lbs cream cheese
4 eggs
1 tsp vanilla
2/3 cup honey
1/2 cup cream or milk
lemon zest from 3 lemons
The Blueberry Sauce:
4 cups fresh or frozen blueberries
1/2 cup water
honey to taste
1/4 cup arrowroot powder or cornstarch
Directions
Bring cream cheese to room temperature and beat it until fluffy.
Add eggs vanilla, honey and cream.
Beat until smooth.
Pour into a 9 inch spring form pan. (You do not need to grease the pan.)
Combine 1/4 cup water with arrowroot powder.
In a small sauce pan bring blueberries and remaining water to a boil.
Add the arrowroot powder mixture and whisk until thick.
Add honey to taste.
Drizzle blueberry sauce into the cheesecake batter.
Use a skewer to make swirls in the batter.
Bake at 350 degrees F. for approximately 60 minutes or until set.
Let cool completely before serving. Enjoy!!!
Yields
8 servings

Want us to feature your recipe on our blog and social media platforms? Click here!
Next:
Recipe of the Week | Stuffed Zucchini