Recipe of the Week | Stuffed Zucchini
Ashley - Dec 28, '22 -
Recipe of the Week
-
Recipes

Stuffed Zucchini from Linda LaBoy
"I have been cooking since the late 1960s. My nanny and mom were big in the kitchen and I followed suit. I love creating new things and have always loved my vegetables. I stuffed zucchinis with all types of things, but this recipe is one of my husband's favorites. He's Puerto Rican, and the olives and Sazon give it a nice Spanish flair." - Linda L.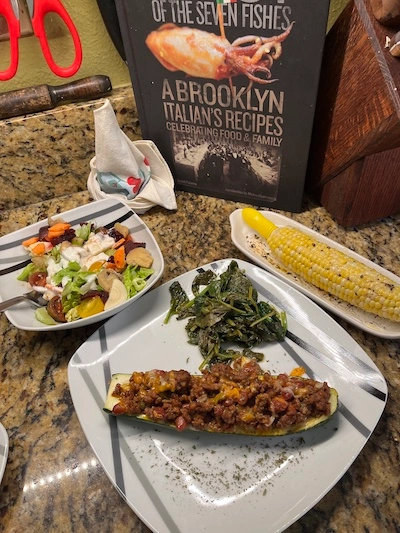 Ingredients
2 zucchini
1/2 lb ground beef
2 Tbsp EVOO
1 packet of Sazon
2 cloves garlic, minced
1/2 cup tomato sauce
S&P to taste
The inside of the zucchini, diced
1/2 onion, diced
1/2 tsp red hot peppers flakes
1/2 cup green olives, diced
1 Tbsp capers
1 cup shredded cheese (any type you like)
Directions
Slice zucchini down the middle long ways. Scoop out the meat with a pointed spoon.
Spray baking sheet with cooking spray. Bake in the oven at 350 for 20 minutes.

Add oil to a large pan and pour in the Sazon and Garlic. Simmer for a minute and then add the beef.

Using a spoon, separate the beef and create a sort of chili type mixture.

Once the meat is no longer pink, add all the other ingredients except the cheese. Add a little bit water if the mixture is too dry.

Once the zucchinis have cooked in the oven, add some cheese to the bottom of the cavity then top with a good scoop of the meat mixture.

Top with a little more cheese and a little more sauce, if you like.

Bake at 350 for about 20 minutes. Delicious with a side of rice or crusty bread
Yields
4 servings

Want us to feature your recipe on our blog and social media platforms? Click here!
Next:
Automate Your Cooking - the Best Smart Kitchen Devices and Appliances