Recipe of the Week | Brunch Charcuterie Board for Mother's Day
Guest Blogger - May 03, '22 -
Recipe of the Week
-
Recipes

Brunch Charcuterie Board for Mother's Day by The Southerly Magnolia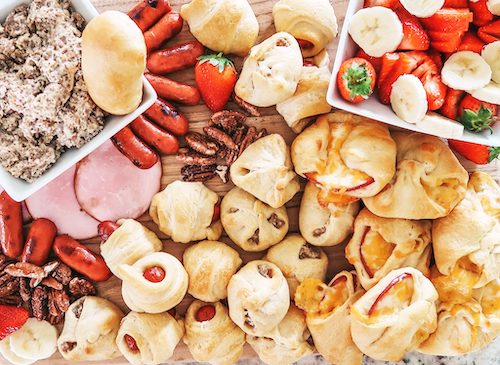 Clair Cook is a Mississippi girl living in Louisiana with her husband and three kids. The Southerly Magnolia shares all things that make up her southern motherhood lifestyle: kids' activities, easy recipes, DIY projects, fashion, home decor, and some insights into her 'mommylife'! Today she's sharing her recipe for Brunch Charcuterie Board just in time for Mother's Day!
Ingredients
2 cans of Pillsbury Crescent Dough Sheets
1 can of Pillsbury Crescent Rolls
1 16oz roll of pork sausage
1 8oz cream cheese
10 slices of Canadian Bacon
1/2 cup of shredded triple cheese
1 12oz Beef Cocktail Smokies
1 cup of strawberries, in slices
1 1/2 cup of pecans
1 banana, in slices
1 tsp of dill weed
1/4 tsp of salt
1 tsp of black pepper
1 tsp of onion powder
1 tsp of Italian Seasoning
Directions
Preheat oven to 375.
Prepare cream cheese and sausage filling: cook pork sausage on medium heat until fully cooked, then add cream cheese.
Add all the seasonings and stir well. Once the cream cheese and sausage if fully mixed together remove from heat.
Roll out the crescent dough sheet onto a parchment paper lined cookie sheet. Cut it into 18 squares.
Place about a tablespoon into the center of each dough square and fold in and pinch, similar to like a wonton.
Cook for about 10-12 minutes or until the edges turn slightly brown.
Now prep the pigs in a blanket. Roll out the crescent roll dough onto parchment paper. You will cut the pre-cut triangles in half to make them smaller to wrap the cocktail smokies.
Heat up the cocktail smokies over medium heat for about 4 minutes, stirring the entire time.
Wrap each cocktail smoky with the crescent roll dough by place the cocktail smoky on the wider end of the dough triangle and rolling it up.
Bake for 10-12 minutes or until them begin to brown.
Lastly, time to prep the ham and cheese crescent pastries. Heat up the canadian bacon over medium heat for about 5 minutes, flipping half way.
Roll out the crescent dough sheet on parchment paper. Cut the dough sheet into 8 squares.
Place one piece of canadian bacon into the center of each square.
Next, place about a tablespoon of the shredded cheese on top.
Now bring each corner to the center and press together. The size of the canadian bacon will either make this step easy or a little more work.
Bake for about 10-12 minutes or until the edges begin to brown.
After all 3 pastries have been baked, it is time to create the charcuterie board. Place the 3 different crescent roll pastries onto the board, along with a bowl of sliced strawberries and banana. Add the pecans as well as the fillings from the crescent rolls.
Enjoy!



Interested in more recipes from The Southerly Magnolia? Check out her blog and follow her on Facebook, Instagram, and Pinterest!
Want us to feature your recipe on our blog and social media platforms? Click here!
Next:
Recipe of the Week | Five Ingredient Meyer Lemon Grilled Chicken