Recipe of the Week | Five Ingredient Meyer Lemon Grilled Chicken
Guest Blogger - May 10, '22 -
Recipe of the Week
-
Recipes

Five Ingredient Meyer Lemon Grilled Chicken by That Susan Williams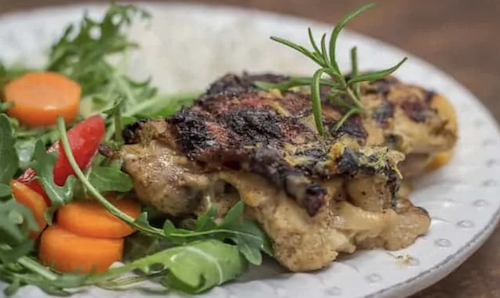 "I love this five ingredient Meyer Lemon Grilled Chicken recipe for several reasons. First of all, it's DELICIOUS! And it's so EASY, you almost don't need a recipe. It's the perfect easy grilled chicken recipe for a weeknight meal!" - That Susan Williams
Ingredients
2 Meyer lemons, zested and juiced
1 c Dijon mustard
2 tablespoons finely chopped rosemary leaves
1/4 teaspoon red pepper flakes
2 1/2 lbs chicken thighs (approximately)
2 T olive oil, more or less
coarse grained sea salt
Directions
Combine the lemon juice, zest, mustard, rosemary and crushed red pepper in a measuring cup. Add one to two tablespoons of the extra virgin olive oil to loosen up the mixture. Pat the chicken thighs dry. Place the chicken in a dish (be sure to cover it with plastic wrap), or in a gallon sized ziplock bag, and pour the lemon/mustard mixture over it. Let it sit on the counter for two hours. (Alternatively, you can even let it marinate overnight, or all day, in the refrigerator.)
Preheat the grill to medium. Run an oiled paper towel over the grill's ridges, to help the chicken not stick. Sprinkle the chicken with coarse sea salt, and lay it on the preheated grill, skin side down, with one end pointing to what would be "2:00" - if you were looking at a clock face. After 5 minutes or so, keeping the skin side down, turn that 2:00 end so that it's pointing to 10:00. That will give you the lovely diamond shaped grill marks you desire. You want to grill the chicken with the skin side down for a total of 10 - 12 minutes. If at any point, flames flare up, move the chicken to a cooler spot on the grill, in order to not burn it.
Turn the chicken to the other side, and repeat the same procedure. Chicken will be done when an instant read thermometer inserted in the meatiest part of the thigh, reads 165º. Allow it to rest for five minutes, and then serve.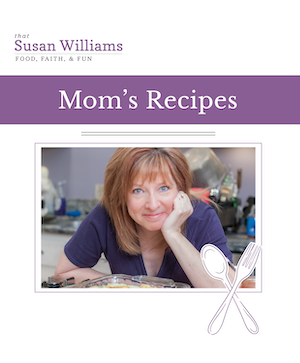 Want to see more of Susan's recipes? Grab a copy of her cookbook!
Want us to feature your recipe on our blog and social media platforms? Click here!
Next:
How to Write a Good Recipe: The Ultimate Guide