Recipe of the Week | Cherry Pork Tenderloin
Guest Blogger - Apr 07, '21 -
Recipe of the Week
-
Recipes

Cherry Pork Tenderloin
"About 25-30 years ago, I was introduced to this dish through a ladies' church group of which I was a member. One of the groups' leaders, Ms.Faye, had us over for a Christmas dinner one year. She served this delicious pork tenderloin in a savory/sweet cherry sauce. I've never forgotten it. My mouth is watering as I write this! The pork tenderloin was peppery and the sweetness and warm spiciness of the cherry sauce was such a surprise to my then untrained palate. Since then, I've served this dish with mashed potatoes and green beans. I've made a few changes to the original recipe over the years but Ms. Faye's original recipe was my inspiration for the version below. It's one of my go-to menu items when I'm hosting dinner in my home." - Sallie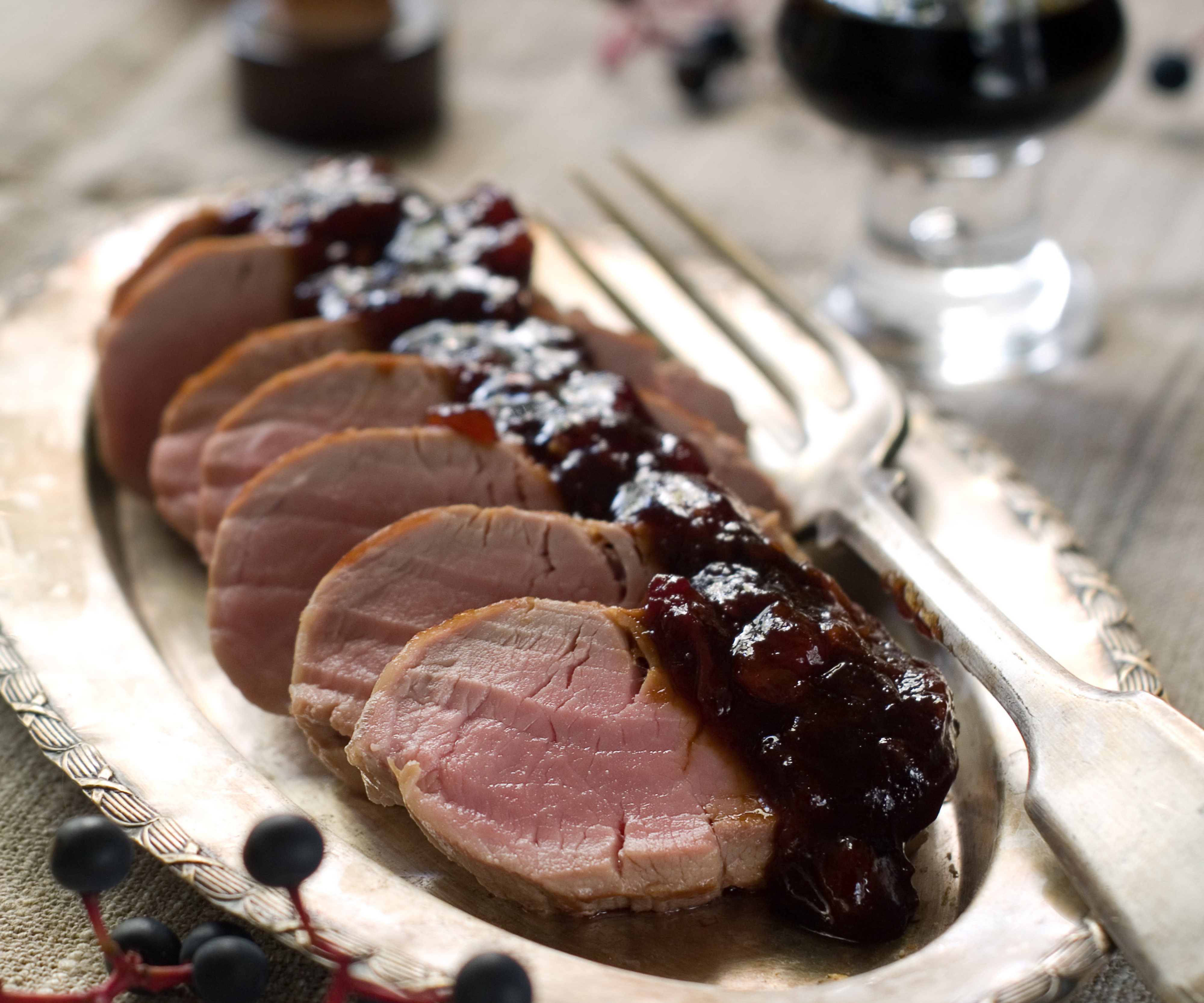 Ingredients
3 lbs pork tenderloin, silverskin removed
Chicken broth, for roasting pan (enough to add 1" of liquid to the roasting pan)
Dry Rub for Pork
4-5 sprigs fresh rosemary, leaves removed from stems and chopped fine (or 2 Tbs dried leaves)
1 Tablespoon kosher or sea salt
1 teaspoon ground black pepper
1 Tablespoon fresh garlic, minced, or garlic paste
1 ½ Tablespoons orange zest
2 Tablespoons vegetable or avocado oil
Spiced Cherry Sauce
1 20-21 oz can cherry pie filling
1 cup cherry preserves
2 Tablespoons apple cider vinegar
¼ cup water
¼ teaspoon ground cloves
½ teaspoon ground cinnamon
1 Tablespoon butter
¼ teaspoon salt
Directions
Preheat oven to 350 degrees F. Prepare pork by removing silverskin and tying or tucking the small end of the tenderloins underneath the rest of the meat to make the tenderloin even in thickness.
Prepare the dry rub by combining all ingredients in a small mixing bowl. Rub all over pork tenderloins, creating an even coating.
Heat a large skillet over medium-high heat. Add 2 Tbs vegetable or avocado oil. When oil is hot, sear pork tenderloins on all sides, until golden brown on the outside, taking care not to crowd the pan.
Remove pork from skillet and place in a baking dish or roasting pan along with 1" of chicken broth.
Roast in 350 degree oven for 20-30 minutes, checking for doneness after 20 minutes, then every 10 minutes after that until desired doneness is reached. Safe internal temperature is 145 degrees. Allow pork to rest at least 3-5 minutes before slicing. Optimal doneness is medium, when the pork is only slightly pink on the inside.Tent with foil and keep warm.
While the pork is roasting, prepare the cherry sauce. In a medium saucepan over medium high heat, add all ingredients for the sauce. Bring to a boil, reduce heat and simmer for 8-10 minutes, until thickened. Keep warm until ready to serve.
To serve, thinly slice the pork tenderloins diagonally, and arrange on a platter. Spoon cherry sauce over the top.


Want us to feature your recipe on our blog and social media platforms? Click here!
Next:
How to Promote a Cookbook: 5 Ideas from Authors & Publishers