Recipe of the Week | Chicken Club Pasta Salad
Guest Blogger - Apr 21, '21 -
Recipe of the Week
-
Recipes

Shaka's Story
"I love brunch so much that I wrote a cookbook and I blog about it every chance I get. This recipe is a combination of brunch items that I love. I really enjoy pasta salad and chicken club sandwiches. So one day when I was at work thinking of recipes this one just popped into my head. What if I combine both recipes? It took a few tries to get it where it was flavorful and beautiful but once I did I could not get enough of it. I pray you love it just the same."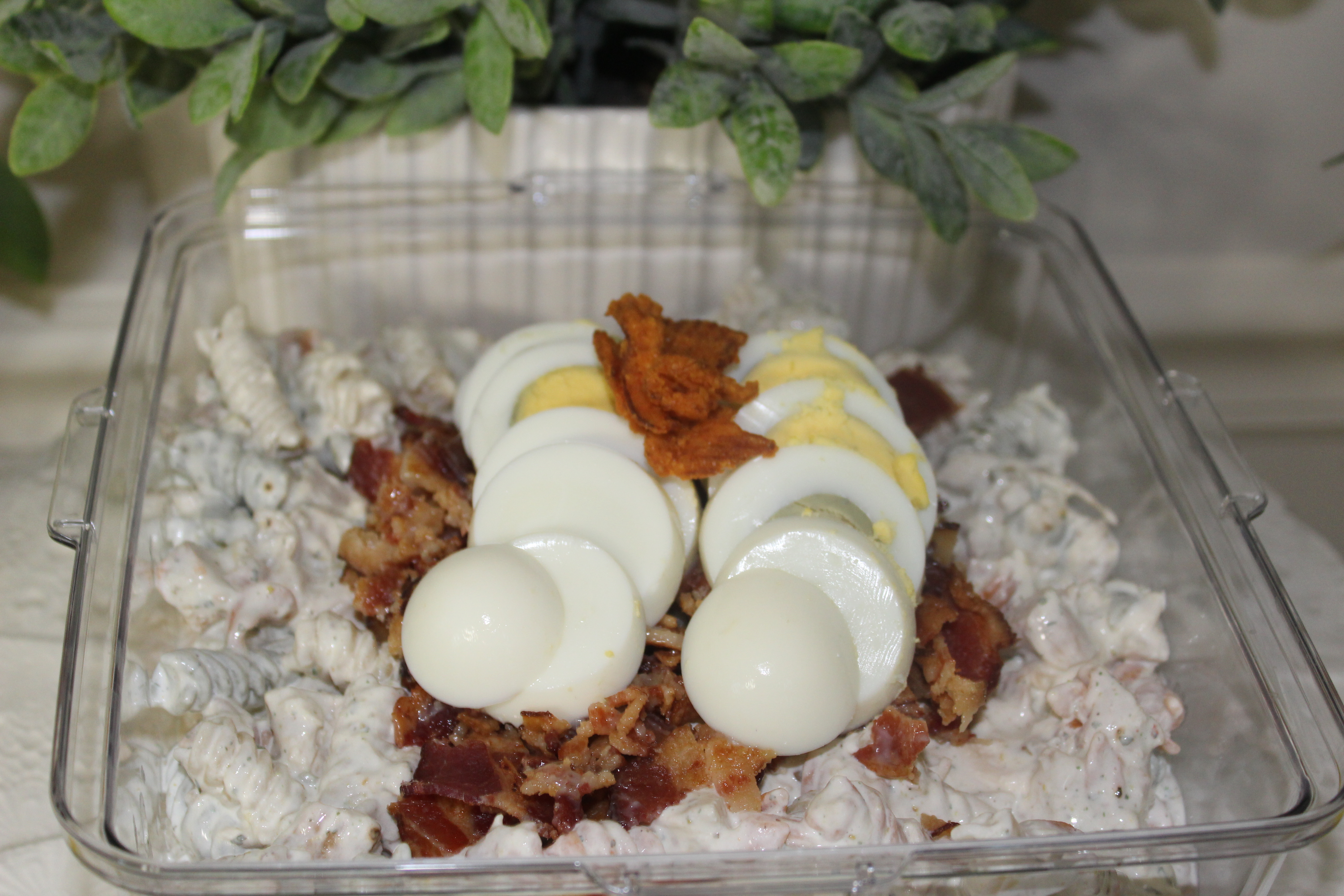 Ingredients:
16oz Sour Cream
2c Rotisserie chicken cubed
12oz box Rotini pasta
1 packet Ranch seasoning
1/2 tsp Parsley
1Tbsp Lemon Garlic rub
2 Hard boiled eggs
6 slices of cooked Bacon crumbled
Directions:
In a bowl combine the sour cream and ranch packet with a spoon stir until well mixed. Refrigerate until ready to use.
In a pot over medium high heat boil the pasta according to package directions. When complete remove from the water and rinse in a strainer under cold water.
In another bowl combine the pasta, parsley, lemon garlic rub, rotisserie chicken, and sour cream mixture until combined. Set aside.
On a cutting board slice the hard boiled eggs and set aside.
Top with crumbled bacon and sliced hard boiled eggs.
Serve chilled.
Yields:
5 servings
My cookbook Come and Brunch with Me is more like a cooking magazine. It is a compilation of 30 or so recipes that can be used for dinner or for a brunch meal as well as a few stories that tell a little bit of my story and how I ended up where I am today. My blog, Food by Faith, tells a little more of the story.
Want us to feature your recipe on our blog and social media platforms? Click here!
Next:
Recipe of the Week | Homemade Steak and Cheese Pizza