Recipe of the Week | Homemade Steak and Cheese Pizza
Guest Blogger - Apr 28, '21 -
Recipe of the Week
-
Recipes

This week, Cheryl is sharing her delicious recipe for homemade steak and cheese pizza. It's the perfect combination. You've gotta try it!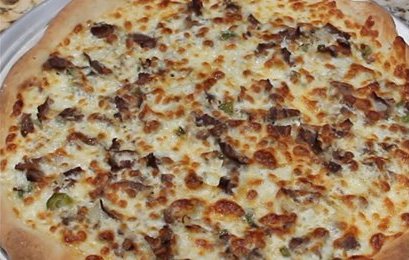 Ingredients:
1 store bought pizza dough (or make your own)

3 steaks, sliced thinly

1/2 onion, chopped

1/2 green pepper, chopped

2 cups of provolone or mozzarella cheese, shredded

1 cup heavy whipping cream

1/4 cup of parmesan cheese

olive oil, for frying

salt/pepper to taste
Directions:
Preheat oven to 450ºF.

Place a little olive oil in your frying pan. Sauté your onions and peppers until soft, then place in a bowl.

Slice your steaks and cook in same frying pan until done.

Once done, add your onions and peppers to the steaks and mix.

In a separate pan add your heavy whipping cream and a little salt and pepper. Stir in your parmesan cheese and mix well.

Once thickened a little, remove from heat. Let cool a little.

Roll out your pizza dough, then place the alfredo sauce on top of your dough.

Place the steak, onion and peppers on top of your alfredo sauce.

Add the 2 cups of provolone or mozzarella cheese on top.

Bake at 450ºF until the pizza is golden brown around the crust and the cheese is nicely melted.

ENJOY!
Yields:
5 servings
Want us to feature your recipe on our blog and social media platforms? Click here!
Next:
How to Utilize Stock Photos in Your Cookbook