Cookbook Love is in the Air
Caroline - Feb 06, '19 -
Cookbook Ideas

Valentine's Day is coming soon, and love is in the air! Are you feeling the love in your kitchen too? For lots of us, the way to the heart is through the stomach. Nothing says "I love you" quite like a special home-cooked meal.
Love cooking together? Make a cookbook for your boo
Use your cookbook to tell your love story. Get creative with your recipes and categories- you can divide your book by the places you've been, the cuisines that inspire you, or the ways you spend time together. Here are some fun examples: "Honolulu Honeymoon", and "Movie Night Meals".
Know someone who recently got engaged? Make a wedding present book!
Wedding season is coming soon; create a personalized cookbook as an engagement or shower gift for the happy couple in your life. It's easy to get everyone involved, from Grandma to the bridesmaids.
Send an invite to friends and family to contribute recipes right into your online Recipe Box. Favorite family recipes, cooking tips and even sweet marriage advice are all fun to include. Contributors can add personal messages in the "notes" section right along with their recipes. If you have lots to say (looking at you, Mother of the Bride) add a Story Page to write your message.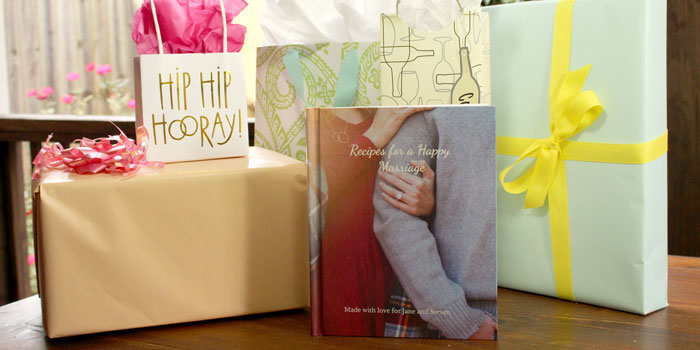 Are you getting married this year? We love this idea:
Some of our customers have used a cookbook as their wedding guest book! You can request recipes from family and friends, and fill the book with your engagement photos. On the big day, ask your guests to write their well-wishes (and cooking tips!) inside your book. It's a practical keepsake that you'll use and treasure for years to come.
Next:
How to Save Your Handwritten Recipes