How to Save Your Handwritten Recipes
Caroline - Feb 15, '19 -
Cookbook Ideas
-
Design
-
Photos

What's in your recipe box? If you love to cook, you've probably collected a number of handwritten recipe cards over the years from friends and family. Those favorite recipes might be tattered and splattered, but the careful cursive script reminds you of special meals with your loved ones.
Now is a great time to preserve those precious family artifacts in a custom made cookbook. Adding images of those well-loved recipe cards to your book adds so much personality to the pages, and allows you to share copies with the whole family.
Capturing Your Recipes
First, collect your recipes and decide whether you're using every card in the recipe box, or just your favorites. You can capture the recipes using a scanner, camera, or your smartphone. If you're taking pictures, make sure you've got good lighting. Take pictures straight on so the recipe is easy to read.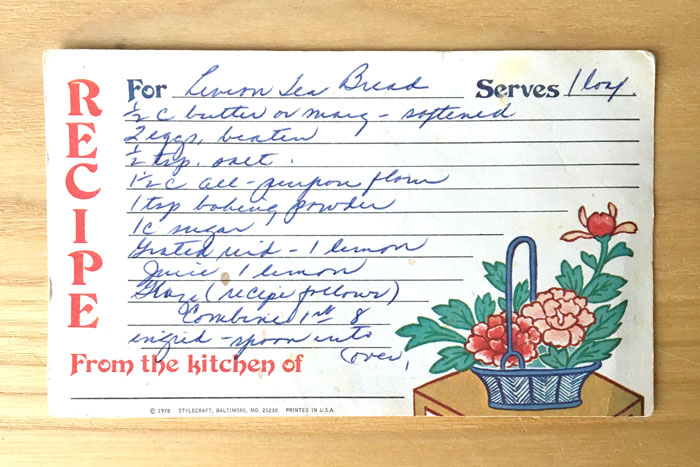 Get Creative
Want to give your cookbook a creative cover? Some of our customers have created recipe "collage" photos. Arrange several recipe cards together and take a photo from a birds-eye view. You could even add kitchen props like wooden spoons or pretty tea towels to make it fun.
In the Designer
Scanned or photographed recipes can be added as a photo to several page layouts- photo pages, section dividers, story pages and some recipe layouts. You can also add photos to the cover of your book. Learn how to upload photos here.
Love Grandma's handwriting, but need to read recipes at-a-glance? Some of our customers will use the "Recipe with Picture" layout. That allows you to type the recipe at the top of the page and have a recipe-card-size photo at the bottom for the best of both worlds. Here's a bonus: since you've already got .jpg images of your recipes, you can easily have them typed in WeTypeIt!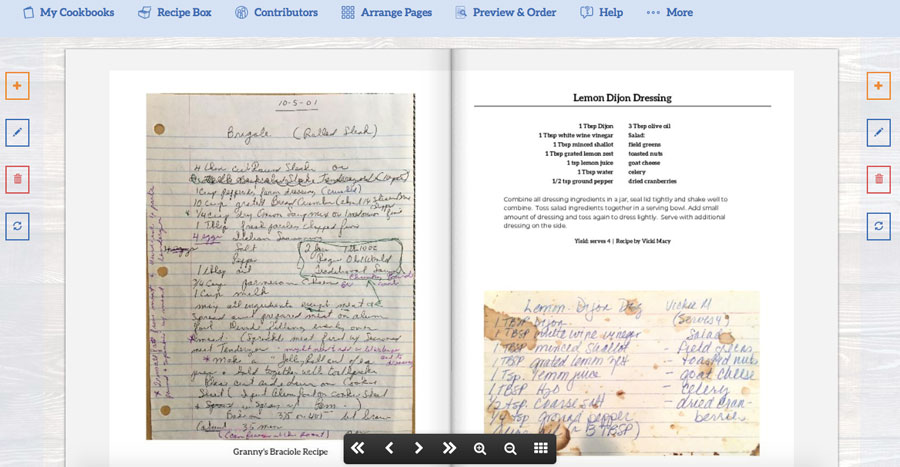 Pro Tip: If you add a scanned recipe as a full-page photo, you can still list the recipe in your Table of Contents. Just go to the "text" tab as you edit the page and enter your title.
Make it Meaningful
We asked our customer Karen about the recipes she used. Karen's greatest inspiration for her cookbook was her mother, so she added her handwritten recipes throughout the cookbook. She dedicated the book to her mother and gifted it to her daughters. This cookbook "brought back so many wonderful memories!" When asked which recipe in her book is the most significant, she told us "My moms biscuit recipe! She taught my daughters how to make good ol southern biscuits!!!"
Who inspires you in the kitchen? We hope these tips help you preserve your family legacy. Your cookbook will be an heirloom treasured by the whole family.
Next:
Must-Have Food Photography Props for the Beginner