Recipe of the Week | Cranberry Meatloaf
Guest Blogger - Aug 09, '22 -
Recipe of the Week
-
Recipes

Cranberry Meatloaf by Jeri Castellanos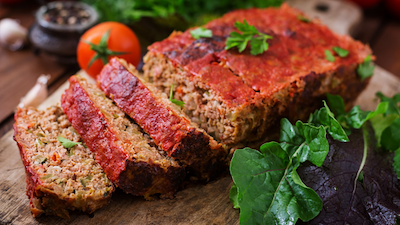 "This is my mother's recipe. It was always her go to on a cold winter day. I remember everything about her when I make this." - Jeri Castellanos
Ingredients
1 lb ground beef
1/2 lb ground pork
1 lb ground veal
3/4 c whole cranberry sauce
3/4 c dark brown sugar
2 eggs
1 onion, chopped
1/4 c ketchup
1/2 c milk
1/2 c breadcrumbs
1 t salt
1/2 t thyme
1/2 t marjoram
1/2 t rosemary
1/4 t white pepper
Directions
Combine cranberry & brown sugar in small mixing bowl.
Line 9x5 loaf pan w/ foil.
Pour cranberry mixture into pan. Make sure sauce covers bottom of pan entirely.
In large bowl, combine the rest of the ingredients.
Form into loaf and put on top of sauce in pan.
Top the loaf with 2/3 bay leaves.
Bake at 350 for one hour 15 minutes.
Let sit for 10 minutes and invert on pan covering top of loaf with sauce.
Yields
6 servings

Want us to feature your recipe on our blog and social media platforms? Click here!
Next:
Recipe of the Week | Dad's Medicine Soup