Recipe of the Week | Cranberry Salad
Guest Blogger - Oct 27, '21 -
Recipe of the Week
-
Recipes

Cranberry Salad

by

Deb B.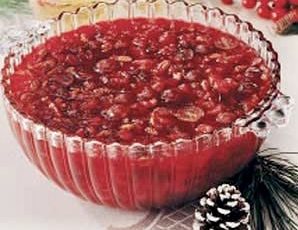 "Our grandmother made this cranberry salad each year for Thanksgiving and Christmas. It was looked forward to from holiday to holiday, year to year. When she was no longer with us, her oldest daughter, our dearest aunt, continued the delicious tradition. It was so anticipated that she would prepare 4 times the recipe each holiday, to enable leftovers for her nieces and great nieces. This cranberry dish is Thanksgiving and Christmas to me. I enjoy the other food, but the cranberry salad is the one thing that makes the holiday meal special. Thank you, Grams and Aunt Peg. Love you always!" - Deb B.
Ingredients
1 small box of strawberry Jello
1 bag of fresh cranberries
1 whole seeded apple, with peel
1 whole seeded orange, with peel
Sugar, or sweetener, to taste
1 can of crushed pineapple, Save the juice to prepare Jello
Directions
Prepare Jello using pineapple juice

Mix ingredients

Refrigerate until firm
Yields
5 cups

(Add this recipe to my CreateMyCookbook recipe box.)
Want us to feature your recipe on our blog and social media platforms? Click here!
Next:
Recipe of the Week | Autumn Wild Rice with Pecans