Creating Your Family Reunion Cookbook
Caroline - Jul 05, '18 -
Cookbook Ideas
-
Cookbook Stories
-
Design
-
Getting Started
-
Organization

Food is a special part of any family's traditions- a favorite birthday cake, the go-to Thanksgiving side dish, or Grandma's secret cookie recipe. That's why creating a cookbook for your next family reunion is a fun way to preserve memories and share traditions. Here are some tips for making a cookbook as unique as your family.
Get Everyone Involved
CreateMyCookbook makes it easy to gather recipes from family members- just share your special link with family so they can enter recipes right into your online recipe box. If you have lots of hand-written recipe cards and aren't up for all that typing, let us do it for you with our typing service WeTypeIt.
Organize it Your Way
There are lots of ways to arrange your book. You can go with the classic courses, or divide your recipes by occasion or family member. Each section divider page can be customized with your own family photos.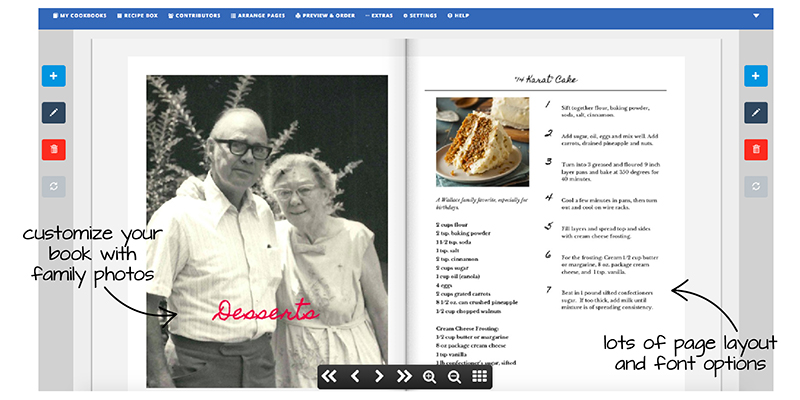 Add Personal Details
Our free online designer allows you to customize your cookbook with photos, stories, and more. Encourage your family members to submit stories and photos to go with their recipes. You can use story pages for your family history, or add a family tree to a photo page.
Order and Share!
Fast turnaround times, beautiful print quality and quantity discounts all make CreateMyCookbook a great option for your family reunion cookbook. There are no minimum order quantities, and we'll save your design in your account so you can add pages or order more copies later.
Next:
Amy's Cooking Class Cookbook