Recipe of the Week | Easy Cinnamon Roll Bunnies
Guest Blogger - Mar 30, '22 -
Recipe of the Week
-
Recipes

Clair Cook is a Mississippi girl living in Louisiana with her husband and three kids. The Southerly Magnolia shares all things that make up her southern motherhood lifestyle: kids' activities, easy recipes, DIY projects, fashion, home decor, and some insights into her 'mommylife'! Today she's sharing her recipe for Easy Cinnamon Roll Bunnies just in time for Easter!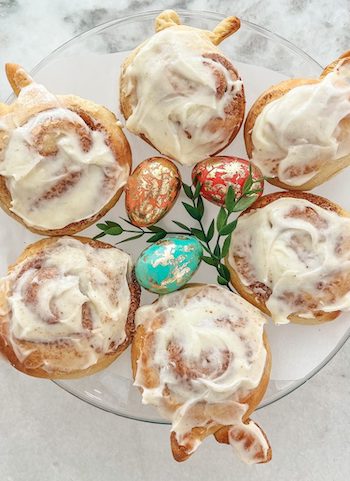 "I don't know if it is just me, but I get on a roll when it comes to homemade recipes. Once I do one, I feel like I have to conquer a few more. I made homemade beignets a few weeks ago. Ever since then, I have been wanting to make another recipe with yeast. Here I am with an easy cinnamon roll bunnies recipe because Easter is right around the corner!" - Clair Cook from The Southerly Magnolia
Ingredients
4-5 cups of all-purpose flour
1 package of active dry yeast (2 1/4 tsp)
1 cup of milk
2 eggs, lightly beaten
1/3 cup butter, almost melted (very soft)
1/3 cup granulated sugar
3/4 tsp salt
1 tsp vanilla extract
Filling:
1/2 cup of granulated sugar
3 tbsp cinnamon powder
1 tbsp brown sugar
Cream Cheese Frosting:
1 cup of powdered sugar
1 (8oz) cream cheese, softened
1 tbsp milk
1 tsp almond extract
Directions
In a large mixing bowl, stir together 2 cups of the flour and the yeast.
Heat up the milk in a small saucepan (or in microwave if watching carefully) until it reaches 120 degrees F. Then add the milk, 1/3 cup of sugar, butter, and salt to the flour mixture. Stir until incorporated.
Add the 2 eggs to the mixture and stir until combined. Add in the remaining flour until a dough is formed and is pulling away from the sides of the bowl.
If you have a dough hook attachment, knead the dough with it for 3-5 minutes or until the dough is moderately soft and elastic. This can also be done by hand.

Add the dough to a lightly greased bowl; cover with a damp towel and set in as warm place for 1 hour or until it doubles in size.

Punch the dough down. Then turn dough out onto a lightly floured surface and cover; allow to rest for 10 minutes. Line a baking sheet with parchment paper while you wait.
Roll the dough into a 18x12 inch rectangle; spread the cinnamon filling mixture over the dough, leaving a 4" border along the 'short' side of the rectangle as well as a 1/2" border along the long sides.

Roll up the rectangle from the filled 'short' side; don't pinch the dough to seal the seam. Slice into 8 equal pieces; then arrange on the prepared baking sheet with spiral sides up.

To shape the bunnies: gently uncurl the 4" of the roll without the cinnamon filling and cut in half lengthwise and shape to give way to bunny ears.

Cover rolls and let rise in a warm place for 30 minutes or until they nearly double in size

Preheat oven to 350F; bake rolls for about 12 minutes or until light brown. For frosting, mix together the powdered sugar, cream cheese, milk, and almond extract until the cream cheese is mixed well.

Spoon the frosting onto the rolls after they have cooled for about 2 minutes. Enjoy!
Yields
8 Bunnies

Interested in more recipes from The Southerly Magnolia? Check out her blog and follow her on Facebook, Instagram, and Pinterest!
Want us to feature your recipe on our blog and social media platforms? Click here!
Next:
Recipe of the Week | Mushroom, Havarti, and Caramelized Onion Pizza