Recipe of the Week | Mushroom, Havarti, and Caramelized Onion Pizza
Guest Blogger - Apr 06, '22 -
Recipe of the Week
-
Recipes

Susan Williams writes about food, faith, and fun. She loves to share my passion for great food, simply and beautifully prepared. She's a born storyteller, and she adores making people laugh.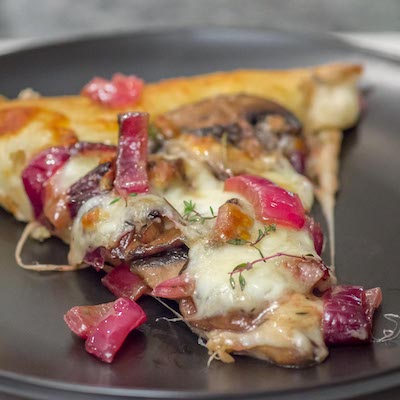 "I made this recipe for our dear friends, when we were staying at their lake house, and they nearly died from ecstasy. Great memories can be made around this pizza!" - Susan Williams
Ingredients
FOR THE CRUST:
3/4 c. lukewarm water (110º)
4 teaspoons yeast
5 1/2 c. bread flour (divided)
1 c. lukewarm water (110º)
1/4 c. olive oil
2 tablespoons milk
1 teaspoon salt
FOR THE PIZZA TOPPINGS:
8 oz. mushrooms, sliced
2 tablespoons butter
2 tablespoons extra virgin olive oil
1/2 teaspoon fine sea salt
1 red onion, sliced
2 tablespoons butter
2 tablespoons olive oil
2 tablespoons balsamic vinegar
1 tablespoon chopped fresh thyme (or 1 teaspoon dried thyme)
1 cup grated Havarti cheese
1 cup grated mozzarella or Italian cheese blend
1/4 cup freshly grated Parmigiano Reggiano
1 T. extra virgin olive oil (to drizzle over or brush over outer crust)
Directions
FOR THE CRUST: Combine the 3/4 c. of lukewarm water and the yeast in a small bowl. Stir in 1/2 c. flour, and let stand for 20 minutes.
Pour this bubbly mixture into your mixer, and add the remaining 5 c. flour, the 1 c. of lukewarm water, the olive oil, milk, and salt.
Mix the dough thoroughly, and then using the dough hook attachment, knead the dough for 10 minutes. (This can be done by hand, too, but it's a lot more work, and no more delicious.) The dough should be soft, and still moist, but not sticking to the side of the mixer bowl, so you can add more flour, 1/4 c. at a time if it seems to to be too sticky. Place in an oiled bowl, and flip it so that the dough is coated with a thin layer of olive oil. Cover the bowl with plastic wrap, and let rise in a warm spot for a couple of hours, until the dough is doubled in size.
(While the dough is rising, you can do the prep work for the toppings: slice the mushrooms and the red onion, and chop the thyme leaves.)
When the dough has doubled in volume, shape one half of the dough into the size and shape pizza you desire, and place it on a baking sheet covered with parchment paper (for easy transfer to my cast iron pizza pan that is preheating). I stretch my pizza dough into a circle that is approximately 15" in diameter, the size of my cast iron pizza pan.
(THIS IS ENOUGH DOUGH FOR TWO PIZZAS, SO IF YOUR FAMILY WILL ONLY EAT ONE, take half the dough and store it in a ziplock bag into which you've drizzled a tablespoon of olive oil. Store it in the freezer, and it will be ready for another night.)
THE TOPPING AMOUNTS ARE ONLY ENOUGH FOR ONE PIZZA, SO IF YOUR FAMILY WILL EAT TWO PIZZAS, you'll need to double the amounts of toppings.)
Preheat the oven and a cast iron pizza pan, or a baking stone, to 450º.
While the oven is preheating, melt the butter in a cast iron skillet over medium heat, and add the olive oil. Sauté the mushroom slices in the melted butter and oil, about 5 minutes. Season with sea salt.
Top the pizza dough with the sautéd mushrooms.
Wipe out skillet, and add more butter and olive oil to the skillet, melting them over medium low heat. When the butter and oil are hot, add the sliced onions, and about half of the thyme. Season with salt. Cover the skillet with a lid and sweat the onions for about 10 minutes. Remove the lid, and continue sautéing the onions for about another 8 minutes. You want them to just begin browning.
Pour balsamic vinegar over the sautéd onions and continue stirring them for about 1 minute more.
Top the pizza with the caramelized onions. Sprinkle the pizza with the rest of the thyme.
Top the pizza with the cheese: the havarti, the mozzarella blend, and the Parmagiano Reggiano.
Brush the outer edge of the crust with a little extra virgin olive oil. It gives it a sheen and a nice color.
Bake at 500º for about 10 minutes, keeping an eye on things, to brown it just the way your family likes it. (Ovens vary, after all.)
If you can possibly wait a few minutes, the pizza will slice better if you let it rest 10 minutes before you slice it. And you are less likely to burn your mouth with molten cheese.
Yields
8 Servings

Interested in more recipes from That Susan Williams? Check out her blog and follow her on Facebook, Instagram, and Pinterest!

Want us to feature your recipe on our blog and social media platforms? Click here!
Next:
Product Spotlight: Write-in Recipe Binders