Recipe of the Week | Ensalada de Nopales (Cactus Pads Salad)
Guest Blogger - Jul 19, '22 -
Recipe of the Week
-
Recipes

Ensalada de Nopales (Cactus Pads Salad) by Juanita O.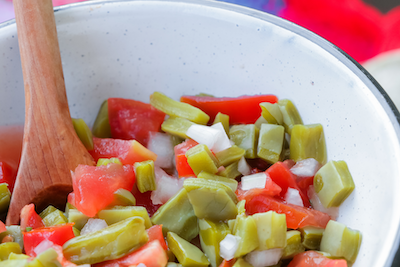 Ingredients
3-4 medium cactus pads, cleaned of spines
2-3 fresh medium tomatoes, thinly sliced
1/2 purple onion, thinly sliced
2-3 pickled jalapeños, seeded and thinly sliced, plus some of the brine from the pickled jalapeños
1 bunch of cilantro washed and chopped
juice from 1 lime
salt and pepper to taste
1/4 teaspoon dried Mexican oregano
1/4 cup crumbled Queso fresco, queso cotija, or Feta cheese
Directions
Clean the cactus pads of spines and wash them very well.
Slice the nopales thin and put them in a pot with water to cover them. Add 1/2 teaspoon salt.
Cook the nopales on medium high heat until tender, for about 15-20 minutes.
When nopales are cooked, remove them from the stove, drain the water and rinse very well and place them in cold icy water. When cooled, drain well.
In a salad bowl or platter, place the cactus, onion, tomatoes, jalapeños and brine, cilantro and dried Mexican oregano.
Squeeze the juice of the lime over the salad. Taste for salt and pepper and gently mix everything together.
Sprinkle crumbled cheese over and serve. It goes very well with grilled meat, cooked beans, or on its own.
Yields
6 servings

Want us to feature your recipe on our blog and social media platforms? Click here!
Next:
Recipe of the Week | Beef Samosas