Fundraising with CreateMyCookbook
Caroline - Feb 09, '18 -
Cookbook Ideas
-
Fundraising
-
Organization
-
Publisher's Corner

Are you looking for a way to raise money for your school, church, or other organization? A custom cookbook is a fun, personal project for everyone involved. Here are some ways CreateMyCookbook makes fundraising easy:
Fundraiser page
Your Fundraiser Page allows you to share information about your cookbook, collect recipes from others and count pre-orders. Share this link via email or Facebook to get everyone excited about your project!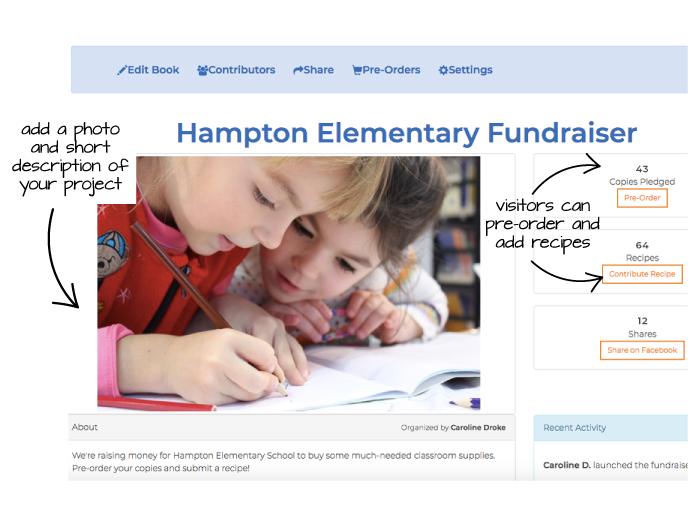 Using the Designer
Our free Cookbook Designer allows you to easily choose recipe page layouts and design your cookbook. You can personalize your cookbook by changing fonts, uploading your own artwork or photos and adding personal stories. The full-color book cover is completely customizable.
Production Times
You'll get your cookbooks fast. Fundraiser orders typically arrive within about 3 weeks of placing your order. Production and shipping times may vary; contact us for an estimate.
Pricing
Our fundraiser books are competitively priced so you make more money for your organization. Fundraiser orders have a minimum quantity of 100 books. These book styles are slightly smaller than our personal binding styles, and they're printed on a lighter weight paper. You can get an instant quote for your project and estimate how much money you'll raise on our fundraiser pricing page.
If you have any questions about your project, feel free to reach out! Our support team is always happy to help you make the most of your cookbook fundraiser.
Next:
New Designer Features: Spring 2018