Recipe of the Week | Great Grandma Helen's Greek Salad of Athens
Ashley - Nov 02, '22 -
Recipe of the Week
-
Recipes

Great Grandma Helen's Greek Salad of Athens from Andréa Clements
"Grandma Helen had her recipe published for Stuffed Peppers. There was this second recipe on that page. Very clever how she had 2 recipes submitted using her name differently. Stuffed peppers were credited to Helen A. Miller, Crosby N. Dak. This one was credited to Mrs. Andy Miller, Crosby, N. Dak." - Andréa Clements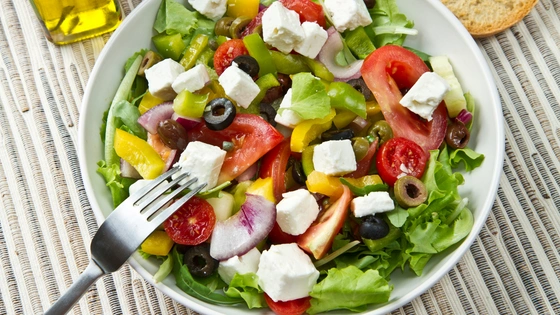 Ingredients
1 head of lettuce
Small tomatoes sliced in French Style
Cucumbers (leave some green peel on)
3-5 green onions
Walnuts
1 8-ounce feta cheese chunk cut into cubes
1 6-ounce jar ripe Greek olives
Sprinkle of oregano
Greek Dressing:
1/2 cup olive oil
1/2 tsp. salt
Fresh ground pepper
1/4 c. wine vinegar
1 T lemon juice
2 tsp Dijon mustard (optional)
Directions
Shred 1 head of lettuce and place on a platter.
Slice small tomatoes French style. Place on lettuce.
Slice cucumbers (leave some green peel on) and small tomatoes. Arrange on lettuce.
Cut green onion and sprinkle on.
Garnish with walnuts, cheese cubes, and ripe Greek olives.
Sprinkle with Oregano.
Pour dressing over. Do not toss.
Yields
10 servings

Want us to feature your recipe on our blog and social media platforms? Click here!
Next:
Recipe of the Week | Baked Barbecue Apricot Chicken