Healthy Recipes Your Family Will Love!
Guest Blogger - Apr 23, '20 -
Guest Blog
-
Recipes

Eating a healthy diet should not involve depriving oneself of food they love. There should be a positive connection between food and mind. One should feel great, energetic and healthy rather than resentment and regret. Healthy eating is a very personal subject. My definition of a healthy meal may not be the same as the next person's.
I am a lifelong vegetarian and I always felt that my diet was fairly healthy just by the mere fact of that. But I realized after watching shows on keto and paleo diet, that eating meat is equally important and in fact human bodies need that to stay 'healthy'. This gave me a different perspective on the different dietary lifestyles and to be more accepting of them.
I am not a dietician, but as someone who wants to cook healthy for her family, here are some healthy eating tips that I follow in my everyday cooking:
Moderation is the key.

Include protein in every meal - this keeps you full and also supports mood and cognitive function. There are a lot of plant based protein options like Greek yogurt, tofu, tempeh, legumes, lentils and so on.

Avoid processed and packaged food as much as possible. Many of these store bought products have way too much sodium, unhealthy fats and chemicals that could be detrimental to one's diet.

Add colorful fruits and vegetables into the diet. They don't always have to be fresh, frozen work just as well.

Have 1-2 cheat meals or cheat days built into your schedule, so this way you are not depriving yourself of foods you crave.
Switching to a healthy diet doesn't have to be a one-day thing. You don't have to completely eliminate foods you love; make 1 healthy choice a day. For example, add a fruit or vegetable every day and commit to it. Include a small side salad with that pizza slice.
Here is a healthy salad recipe that is colorful, packed with flavor and won't make you feel that you are depriving yourself:
Roasted Sweet Potato Pecan Salad
This is a very festive looking and delicious salad. Pomegranate seeds, grapes and raisins give the salad slight sweetness.
Prep Time: 15 mins
Cook Time: 30 mins
Total Time: 45 mins
Ingredients:
2 Large Sweet Potatoes, peeled and diced into 1" cubes

1 Large Onion, peeled and chopped

3 tbsp olive oil

½ tsp Ground Coriander

½ tsp Ground Cumin

¼ tsp Ground Cinnamon

1 tsp Rosemary, finely minced (or use ½tsp dried Rosemary)

1 cup Green Grapes, halved

1 cup Pecans, toasted

½ cup Pomegranate seeds

½ cup Scallions, thinly sliced

¼ cup Golden Raisins

To taste Salt Pepper

A splash Sherry or White wine Vinegar
Instructions:
Preheat the oven to 400°F. Place a baking sheet in the oven.

In a large mixing bowl, combine the chopped sweet potatoes, onions, ras-el-hanout, olive oil, rosemary, salt and pepper. Toss well and transfer the mixture onto the heated baking sheet.

Bake for 30 minutes or until the sweet potatoes are tender and slightly caramelized. At this stage, you can let them cool completely and store in an airtight container in the fridge for a couple of days.

When you are ready to make the salad, let the sweet potato mixture sit at room temperature for at least 30 minutes.

In a large mixing bowl, combine the roasted sweet potatoes with chopped grapes, pomegranate seeds, scallions, raisins and a splash of vinegar and olive oil. Taste and adjust the seasoning. Serve at room temperature.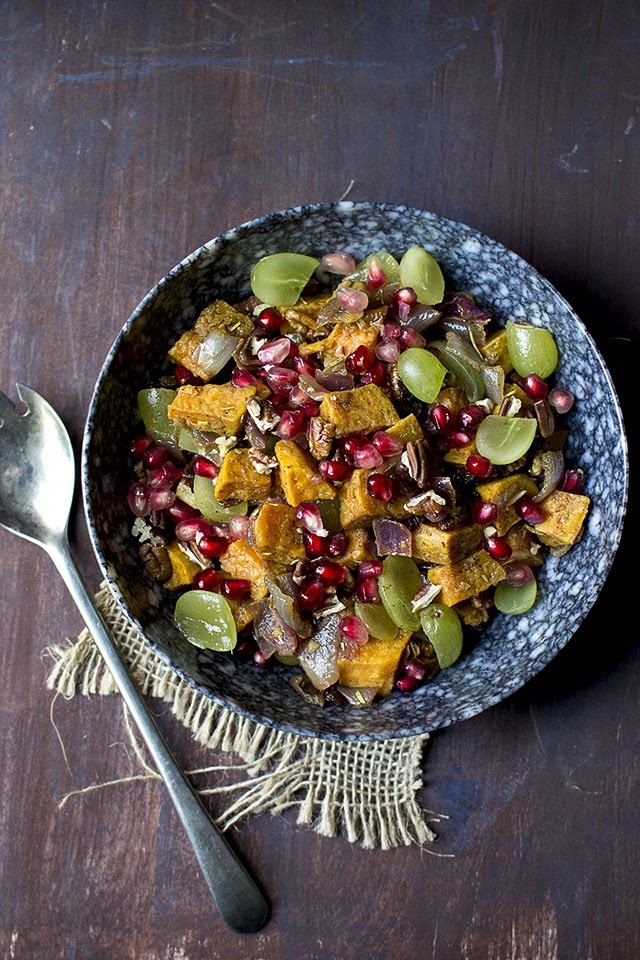 For more healthy recipes, get on over to Cook's Hideout, sign up and follow on Social Media.
Pinterest: https://www.pinterest.com/napavani/
Instagram: https://www.instagram.com/napavani/
Facebook: https://www.facebook.com/CooksHideout/
Twitter: https://twitter.com/napavani
Next:
How to Keep Connected Over Mealtime During Social Distancing