How to Create a Cookbook in a Hurry
Courtney - Sep 25, '17 -
Cookbook Ideas
-
Organization
-
Publisher's Corner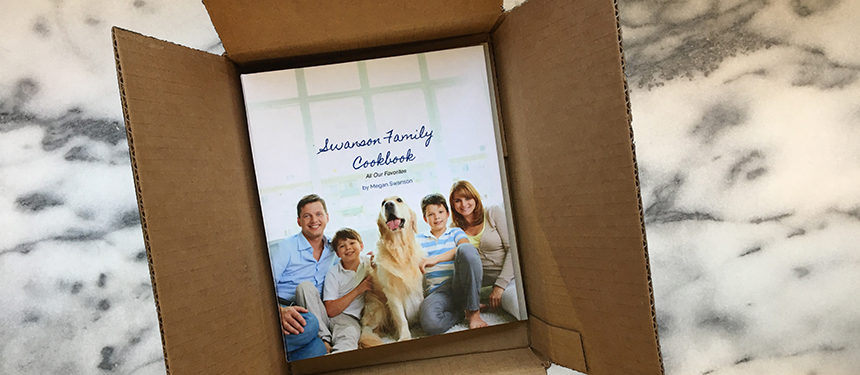 Is that deadline sneaking up on you a little too fast? Here are some tips and tricks to speed up the process and get your cookbook finished faster.
1. Order a Ringed Binder Cookbook
You can actually order a Ringed Binder with as few as 0 pages, then order extra pages separately later. This is a great option if you don't have time to gather all your recipes before your deadline. For more information, see our article on how to order extra pages for your binder.

2. Use Our WeTypeIt Feature
Do you have a big stack of recipe cards and no time to type them? Use our new transcription service WeTypeIt; just upload photos or scans of your recipe cards and we'll type them for you. You'll receive an email as soon as they are available in your recipe box.
3. Use the Recipe Box
If you start out by entering all of your recipes into your "recipe box", you can add them by category to your cookbook and customize the design all in one sweep. Learn more about entering recipes from the recipe box.
4. Order An eCookbook
If your deadline is too tight, you can purchase an eCookbook as an add-on to your order. Your eCookbook access code will be emailed to you right away so you can access your cookbook from your smartphone or tablet. Our eBooks are more than just a file download; the book code gives you the ability to easily browse the cookbook contents in our app using the recipe finder.
5. Choose a Faster Binding Style
If you've finished your cookbook and you want to ensure that you get it as soon as you can, it's important to note that production time varies between binding styles. Here are some tips:
Wire-O Soft Cover cookbooks are the fastest to produce. Production times vary so always check the shipping guide, but sometimes Wire-O Soft Cover cookbooks can ship in as little as 3-4 business days.
Ringed Binder and Hardback Wire-O cookbooks are the next fastest to produce
Image Wrap Hard Cover cookbooks (the standard hardback) are the slowest. If you are really in a hurry, consider another binding style.
For Fundraiser cookbooks, Fundraiser Wire-O styles are the quickest to produce
6. Upgrade Your Shipping
If you live in the U.S. you can always upgrade your shipping to UPS Next Day Air or UPS 2nd Day to meet your tight deadline. Unfortunately we can't rush your order in the production process. Check out our Shipping Policy for shipping options and turnaround time information.
Feeling inspired? Get working on your cookbook now.
Next:
2017 - Year in Review