Recipe of the Week | Momma's Spaghetti Sauce
Ashley - Nov 30, '22 -
Recipe of the Week
-
Recipes

Momma's Spaghetti Sauce from Marty Thomas
"I have been making this recipe for over 55 years, and tweaking it by taking elements from other spaghetti sauces that I particularly liked. In 1968, I prepared this for my dad a few months before his passing. After indulging in a bowl fit for 2 people, he commented that he always thought my mother made the best spaghetti sauce in the state, but I had surpassed her. That was the supreme compliment to me. Initially I used canned tomato sauce and tomato paste, then added the necessary spices. I discovered as a young working mother that the prepared sauce in a jar was much easier and was always consistent with the seasoning. Now as a retired granny and great-granny, the frozen seasoning vegetables have made their way into my cooking. Obviously, if I am making an effort to impress, I use fresh!" - Marty T.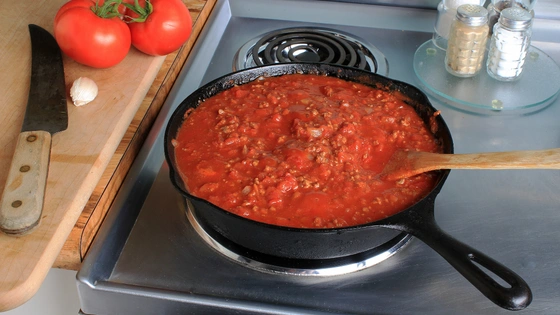 Ingredients
1 1/2 - 2 Lb. Ground Chuck, browned and well drained
4-5 Stalks Celery, diced
1 Medium Green Bell Pepper, diced
1 Large Sweet Onion, diced
2 Tbls. Worcestershire Sauce
1 Small Jar Stuffed Green Olives, optional
1 Small Can Medium Pitted Black Olives, optional
1 Tsp. Sugar or Sugar Substitute, optional
2 Large Jars of Prepared Spaghetti Sauce (I use Prego)
Directions
After browning and draining the meat, return to a large stock pot or Dutch oven (or even your Crock Pot).

Add vegetables and cook for about 5 minutes, stirring constantly until they are tender.

Add prepared spaghetti sauce and Worcestershire sauce.

Add olives and let simmer for at least 45 minutes.

In the Crock Pot, cook on low for 6-8 hours.

If you prefer a sweeter sauce, add sugar or sugar substitute with the olives (I use Sweet N Low). You may also add salt and pepper if necessary, but I have never needed it. This sauce is really better if you let it cook for several hours. NOTE: If you are in a bit of a hurry, you can use frozen cut up onion, pepper and celery, but, as usual, fresh is always better.
Yields
10-12 servings

Want us to feature your recipe on our blog and social media platforms? Click here!
Next:
Recipe of the Week | Potato Latkes