Recipe of the Week | Palestinian Orange Cake
Ashley - Nov 16, '22 -
Recipe of the Week
-
Recipes

Palestinian Orange Cake from Asmaa Jamal
Born and raised in Gaza, Asmaa is a Palestinian chef and journalist, currently residing in Turkey. A graduate in Management of Institutions from the University College of Applied Sciences and the College of Media with the University of Palestine in Public Relations and Advertising, Asmaa has worked extensively in promoting traditional Palestinian and Arab cuisine. Her speciality is doing her own special kitchen secrets to recipes that are hundreds upon hundreds of years old. Her collection of Palestinian dessert recipes from grandmothers and mothers is admired and appreciated by all those who dine with her.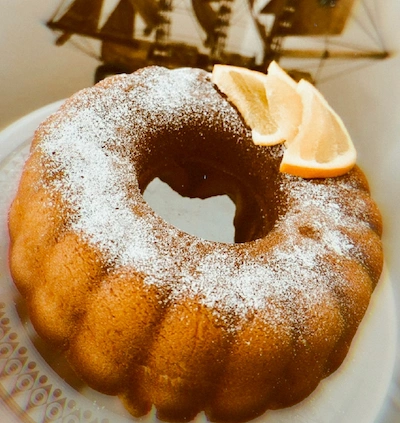 Ingredients
Juice of 3 fresh oranges
1 cup of sugar
1 cup of vegetable oil
2 1/2 cups of flour
2 eggs
2 tsp vanilla extracts + baking powder
Grated orange peel
Directions
We beat the two eggs with the vanilla and the grated orange.
Add the sugar to it and continue to beat.
Then, we add the vegetable oil and the natural orange juice.
We put the flour with the baking powder and continue to beat.
Pour the mixture in the cake mold, insert-into the preheated oven at 350 degrees.
45 minutes later we take it out of the oven.
Serve with delicious tea, cappuccino, hot chocolate, or orange juice. A total delight!
Yields
12 servings

Want us to feature your recipe on our blog and social media platforms? Click here!
Next:
Recipe of the Week | Stew Chicken