Recipe of the Week | Piña Colada Cheesecake
Guest Blogger - Mar 08, '22 -
Recipe of the Week
-
Recipes

Piña Colada Cheesecake by Debra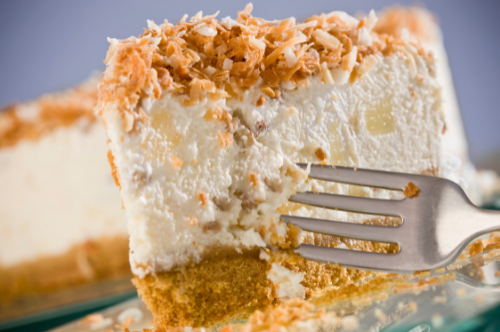 Ingredients
For the Crust:
1 cup shredded coconut
1 cup graham cracker crumbs
1/4 cup butter, melted

For the Cheesecake:
4 (8 oz) packages Philadelphia Cream Cheese, room temperature
1 cup Breakstone's sour cream, room temperature
4 jumbo eggs, room temperature
1 1/2 cups sugar
1 (19 oz) can Dole crushed pineapple, drained
3 tablespoons Bacardi dark rum
2 teaspoons coconut extract

For the topping:
1/2 cup sugar
2 tablespoons cornstarch
1 tablespoon Bacardi dark rum
1 (19 oz) can Dole crushed pineapple
Directions
For the Crust: Add coconut and graham crackers to a mixing bowl. Add butter and mix well. Spray bottom and sides of a 9-inch cheesecake pan with cooking spray, press mixture into bottom of pan.
For the Cheesecake: Mix cream cheese at medium speed while adding sugar 1/4 cup at a time until smooth. Before adding eggs scrape bowl with a spatula and mix on medium for another minutes. Add eggs 1 at a time on low speed. Add drained crushed pineapple, rum and coconut extract and mix on low until combined then fold in the sour cream. Bake for 90 minutes in a water bath.
For the Topping: Add sugar and cornstarch to saucepan and whisk to break up any lumps. Add Bacardi and crushed pineapple. Cook over medium heat until mixture boils and thickens. Pour into heatproof bowl and cool completely and refrigerate overnight. The next day spread over cheesecake.
Yields
8 Servings

Want us to feature your recipe on our blog and social media platforms? Click here!
Next:
Recipe of the Week | PBJ French Toast