Recipe of the Week | Portuguese Kale Soup
Guest Blogger - May 31, '22 -
Recipe of the Week
-
Recipes

Portuguese Kale Soup by Scott Sylvia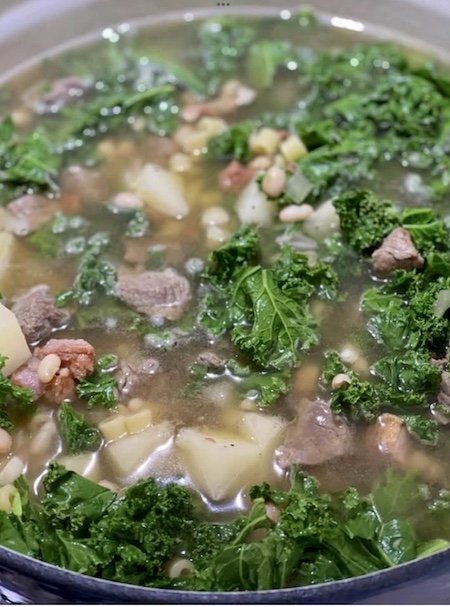 "This is a recipe that I came up with based upon what my Mom and Vavo (grandmother) used to make. I added my own little twist to it. I find this soup is best the next day as all the flavors get a chance to meld together." - Scott Sylvia
Ingredients
1 bunch chopped kale
5 medium potatoes cut into bite size pieces
1 hot Chourice, casing removed, chopped
1 package stew meat cut into bite size pieces
1 medium onion diced
1 can small white beans
1 tsp temperos Portuguese (allspice)
1 tsp Assafroa (safflower)
1 TBSP kosher salt
1 tsp coarse ground pepper
2 quarts chicken stock (preferably homemade)
2-3 cups water
2 TBSN olive oil
1 cup ditalini
Directions
In a large Dutch oven sauté the onion over medium heat in the olive oil until translucent.
Add the Chourice and stew meat and cook until browned.
While this is cooking cook the ditalini in water in a separate pan until Al dente.
Add the can of white beans and juices to the Dutch oven.
Add the chicken stock and the potatoes and cook over medium heat for 5 min.
Add the ditalini including the water it was cooked in.
Add the spices and then the kale.
Fill the pot with enough water to cover the kale.
Bring to a boil then reduce to a simmer fiord about 45 min.
Let it sit for the flavors to meld together and serve with crusty bread.
Yields
About 4 quarts of soup

Want to see more of Scott's recipes? Grab a copy of his cookbook, My Love of Cooking! Follow him on Instagram.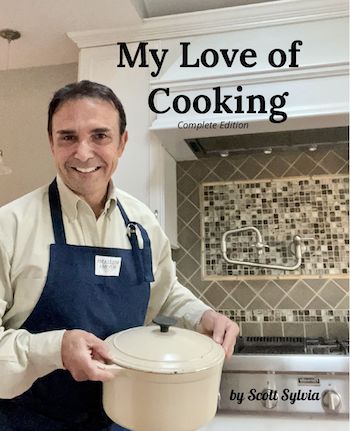 Want us to feature your recipe on our blog and social media platforms? Click here!
Next:
Recipe of the Week | Fregola Aperitivo