The Perfect Family Reunion Cookbook
Ashley - Mar 08, '20 -
Cookbook Ideas
-
Cookbook Stories
-
Design
-
Organization

It's March, and the weather is slowly starting to warm up so you know what that means! It's Family Reunion time! It's the time when everyone busts out their family favorite recipe, quadruples the batch, and brings 4 glass dishes filled with banana pudding to the gathering!
I don't know about y'all, but it's definitely one of my favorite times of the year. I get to eat Aunt Mary's sweet potato casserole, grandma's banana pudding, Uncle Tim's Cornbread, and Dad's famous ribs all on the same day! Needless to say, I LOVE my family's cooking.
This made me realize… wouldn't it be nice if, on a random Thursday night when I got a hankering for those marshmallowy sweet potatoes, I could just whip up a batch myself? This is where CreateMyCookbook comes in handy! Using the Contributors feature, I can start a cookbook, invite all of my family members to submit recipes and photos, add all of those recipes and photos directly into my cookbook, and send it off to print! In no time, I can have a cookbook filled with my family's amazing recipes shipped right to my front door.
How does it work? Let me show you!
Tutorial
First, you start a cookbook. I'm titling mine "Ashley's Family Favorites."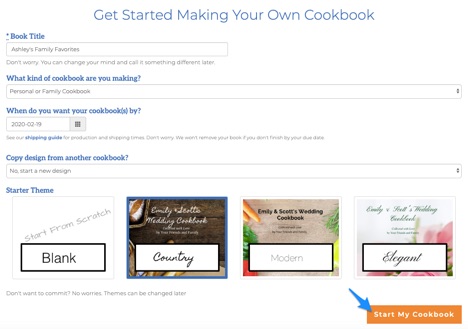 Once my brand new cookbook populates, I'm going to click on the Contributors tab.
In the Contributors window, I can invite my family to contribute recipes and photos by clicking Invite Contributors.

All I have to do is type in their email addresses, add a quick message, and click "Send Invitations."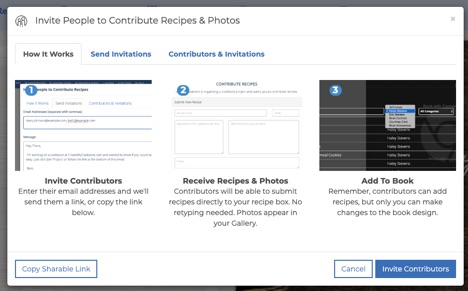 My invitees will receive an email that looks like this:
All they need to do now is click Join Project, create their own account, and then start contributing recipes and photos!
When someone contributes a recipe to my project, I'll see a notification pop up on my Contributor's tab.

I can then accept the invite, which adds the recipe directly into my Recipe Box!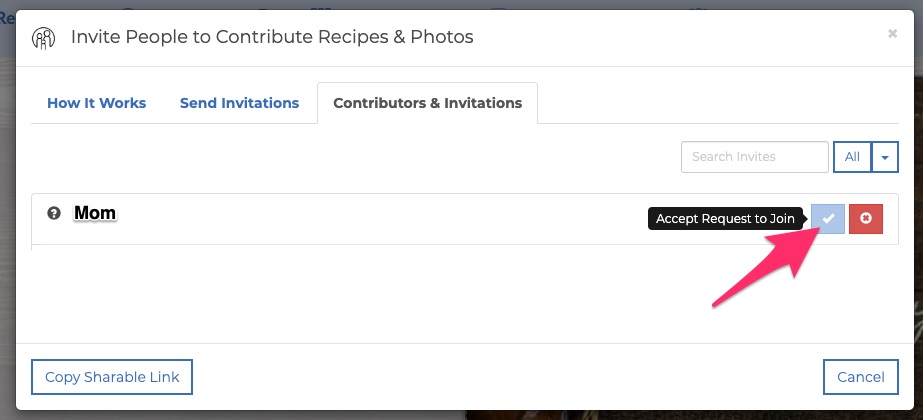 It's that easy! Once the recipes start coming in, I can drop them right into my cookbook from my Recipe Box. It's so exciting - especially if your family also includes some embarrassing photos of Uncle Tim from Christmas in 1995 where he maybe had a few too many glasses of eggnog and... well, you get the point.
So what are you waiting for? Now is a better time than ever to start asking your relatives for those much-desired recipes! Get started today!
Next:
How to Incorporate Healthy Eating with Kids