Writing an Awesome 'About Me' Page for Your Cookbook
Guest Blogger - Nov 18, '20 -
Cookbook Ideas
-
Guest Blog
-
Publisher's Corner

Our guest blogger Kristin Savage is a content writer at Subjecto and a contributing editor at SupremeDissertations. She started her writing career as a guest contributor for the ClassyEssay, and now she also runs her blog, where she shares writing tips with others.
Working on your own cookbook is awesome. It's so fulfilling to put together all your favorite recipes and share them with the world. Besides, your cookbook will become your legacy and be something that people will remember you for.
This is exactly why you need to put a lot of thought not just into the collection of recipes itself but into the cookbook design as well. And one of the most important parts of your cookbook design is the "About Me" page.
So, today, we'll put a bit more focus on discussing how to write such a page and make sure it not only attracts more readers but also inspires people to cook and become more creative with their meals.
Research Your Audience
Although your cookbook is primarily the product of your creativity, it's also a marketing tool that represents your personal brand. And, as with any marketing material, it is absolutely crucial to research your audience to make sure you target the right reader.
Is your book for those who are trying to have a more balanced diet? Or are you trying to put together recipes for festivities? Are your readers vegan, vegetarian, or don't have dietary preferences?
Sometimes, even the speed of preparing the dishes from your cookbook matters when addressing your audience. In one of Gordon Ramsey's books called Quick and Delicious, he notes that this book is perfect for those who don't have much time and need delicious recipes that can be cooked under 30 minutes: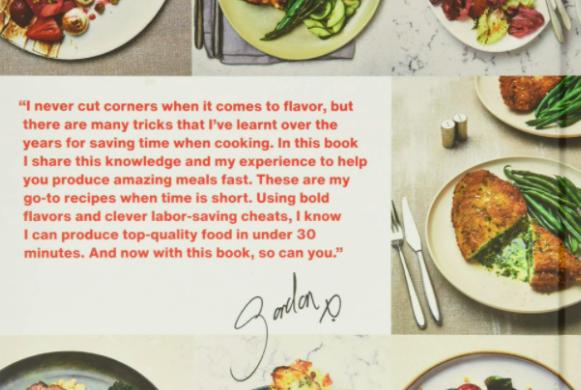 Image credit: Amazon
Even small details, like cooking time, matter for your audience. So, naturally, you need to take all these points into consideration when writing the "About Me" page for your cookbook.
Talk about Yourself
Your cookbook is the product of experience, imagination, and creativity, and you need to tell that to your audience when introducing yourself. Your readers would be interested in finding out how your cookbook came to be so reveal your journey when writing the "About Me" page.
It's best to do it through storytelling, especially if you want your book to stand out. Marissa Peterson, a writer and researcher at GrabMyEssay, reveals that storytelling is perfect for introducing yourself to your readers as it makes any content 20 times more memorable.
So, on the "About Me" page of your cookbook, you can tell your readers the story about:
your experience with cooking

what inspired you to write your cookbook

who pushed you to share your ideas with the world
Your story doesn't have to be long, but it needs to be relatable and people should be able to resonate with it.
However, try to avoid making the "About Me" page only about yourself, especially try not to praise yourself too much. Jessie James Decker's book Just Feed Me is a bad example from this point of view, considering how much the "About Me" page tells how successful she is and how lucky the readers are to even hold her cookbook in their hands:
Image credit: Amazon
So, try to make the self-introduction brief, and make this page more about how your recipes can cater to the needs of your audience and improve their lives.
Pay Attention to Correctness and Readability
The "About Me" page is your signature as it represents you and your achievements in culinary art. You can't allow yourself to make any mistakes in it, as even the smallest slip can affect the first impression from your cookbook.
Naturally, proofreading the text on your "About Me" page is a necessary step before your cookbook gets published. Luckily, you can employ some proofreading tools in your arsenal to make this process less tiring:
Checking the correctness of the "About Me" page is not only about grammar and punctuation. It's also about how well you're presenting the information and how easy it is to read. These editing tools will help you make sure that your "About Me" page is comprehensible, engaging, and doesn't take too much time and effort to read.
Add Reviews
How else can you diversify the "About Me" page in your cookbook? How can you make it look different?
One way to achieve this diversity is by adding reviews. You might have seen many authors use this approach to add credibility to their book descriptions, and this is what you can do as well.
Try to find an authoritative resource whose opinion matters to your audience, and ask them for a review. It can significantly increase your sales as well since you're referencing someone who has a solid stand in the culinary world.
If you're an influencer and publish your recipes on YouTube, you could also ask your followers to try them and give their own reviews, which you can later use in the "About Me" page of your cookbook. You can use their names with their permission as well to make the reviews appear realistic. Compared to the reviews from an authoritative source, such an approach would be even better, considering that the reviews will come from real people who actually tried your recipes, loved them, and would recommend them to others.
Wrapping Up
Surely, your cookbook is important to you. You may even call it your child, considering how much effort you put into it.
So, of course, you need to tell people how great it is, and the best way to do it is by writing an engaging and inviting "About Me" page, which is also an important part of your cookbook design.
Hopefully, the tips that we shared today with you will help you write such a page, making your readers know that they are welcome to embark on a journey to explore and discover new culinary horizons.
Next:
How To Run a Holiday Cookbook Fundraiser Podcast